NEWS
Betty White: Agent Would "Divorce Me" If Rejected 'SNL' Gig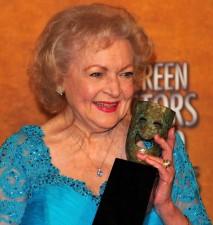 It has been confirmed — Betty White just picked up a new hosting gig! The 88-year-old golden girl is headed to Saturday Night Live! "Years ago, I turned it down three times," Betty told Access Hollywood on her hesitation to host the hit improv show. Why the opposition?
"It's so New York, and I'm not New York at all. But my agent said he'd divorce me if I didn't do it, and I love my agent," Betty quipped to Access.
Article continues below advertisement
Betty will host on May 8 and the show is pulling out all the stops for her.
Six former female late night heavy hitters including Tina Fey, Amy Poehler, Molly Shannon, Maya Rudolph, Ana Gasteyer and Rachel Dratch will be joining Betty on set, Access confirmed.
OK!'S SUPERBOWL COMMERCIAL ROUND-UP
"It took on a groundswell," SNL executive producer Lorne Michaels said. "It isn't something we would have said no to… it was the outpouring of affection from fans, and we feel the same way… she's the mother of us all in comedy, so it will be a celebration of Betty White."
Despite the return of the powerhouse leading lady cast, Betty will be the solo host.
"It's lovely, and at my age it's certainly unexpected." Betty said. "I've got so much energy, it's ridiculous. I love working. My schedule is a feverish one, and I'm used to that."
Betty's agent, Jeff Witjas, could not be happier about her decision to host, admitting he wouldn't "divorce her" if she had rejected the offer for a fourth time.