NEWS
The Biggest Loser 6: Live Finale!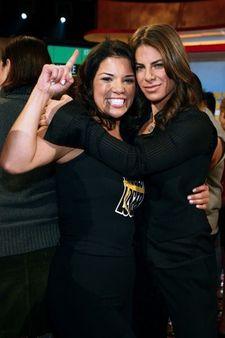 And Michelle wins the sixth season of The Biggest Loser, yeah!
This makes me happy for three reasons:
1. She was the last one standing on the Black team, and everyone loves the underdog.
2. Her story was the one that truly tugged at your heartstrings as she worked to lose the weight and rebuild the between her and her estranged mom Renee (who looked fantastic too!).
3. Vicky didn't win!
While winning the show is based on weight loss, it's nice to know that someone who played the game fairly actually got the big prize.
Article continues below advertisement
It wasn't too surprising that America picked Ed to be in the finals – in an 84 percent landslide no less! – over his wife Heba, despite his pleas to put her in the finals.
I pretty much felt like America did. While it would have been great to see an all-girl finale, the thought of giving that whiny, "it's all about me woman" a chance for $250,000 was just unbearable.
Of course, Heba had the last laugh, winning the eliminated contestant weigh-in with a 156 lb. weight lost off her 294 lb. frame. Yes, she would have definitely been The Biggest Loser with those numbers. And I would have hated that.
My only consolation of her eliminated contestant winnings is that the $100,000 prize money will also go to her sweet and devoted (possibly delusional?) hubby. And it's nice to know that Heba is in the best condition to start their family.
Didn't Stacey look incredible? To be on the first team eliminated, and then to go home and lose 65 lbs. on her own just goes to show that, yes, it can be done in real life.
Mom and daughter team Shellay and Amy? Holla. Those gals looked fierce!
And Phil? Day-um! Who knew there was a hottie hiding under all that excess weight? His wife Amy looked incredible too. I'm sure she'll spend years ribbing him about how she beat his final weight by one pound!
Congrats to all the players, who all lost more than 60 lbs. In my book, they are all winners.
They motivated me to get up and hit the gym this morning. That is a miracle!