NEWS
'The Biggest Loser' Winner John Rhode on How He Plans to Keep the Weight Off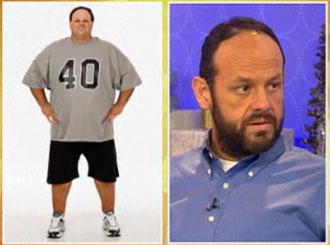 The Biggest Loser: Battle of the Ages winner has finally been revealed! On last night's big finale, 41-year-old John Rhode, who started his journey weighing in at 445 pounds, walked away with the cash prize of $250,000 after losing a whopping 220 pounds and beating out fellow finalists Antone Davis and Ramon Medeiros.
This morning, John sat down with Today's Ann Curry to talk about his future plans and what he'll do to make sure he stays at a slim 225.
Article continues below advertisement
"I had a sincere desire to make this change, but I want it to be a true change," John tells Ann. "I want to keep the weight off. Losing the weight wasn't so difficult. Keeping the weight off, that will be the true test."
OK! NEWS: JOHN RHODE WINS 'THE BIGGEST LOSER!'
Now that the show is over, John has his sights set on running the Los Angeles marathon, something he says will keep him motivated.
"It is very much a psychologically emotional battle," John says of staying in shape. "My plan right now — I'm focused on running the L.A. marathon. After that, I'm going to have to find a new focus."
MORE ON:
The Biggest Loser
John says that as long as he has a goal to look toward, he knows he'll be able to conquer the weight battle and live a healthy and happy life with his wife and two kids.
OK! NEWS: ANNA KOURNIKOVA LEAVING 'THE BIGGEST LOSER' AFTER ONE SEASON AS A TRAINER
"Why not live life to the fullest," John, who is making plans to skydive, tells Ann. "I have been given a new life. I'm excited and I want to continute living an exciting life."