NEWS
Blake Lively Bought 'Savages' Crew 'I Survived Oliver Stone' Shirts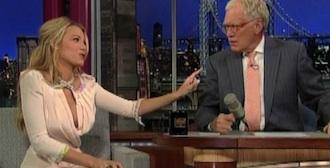 Blake Lively was a ball of giggles and metaphors when she visited David Letterman on The Late Show last night to discuss her new movie, Savages.
OK! GALLERY: BLAKE LIVELY, SALMA HAYEK & JOHN TRAVOLTA LIGHT UP THE SAVAGES PREMIERE IN L.A.
Outfitted in the usual Lively-esque clinging white dress, she tossed her hair and spun tales about getting free tickets to the Superbowl and sitting in a box seat with the Miami Dolphins owners. She compared a plane ride out of New Orleans as an "ecstasy flash forward" (as she has yet to try the drug) and compared working with Oliver Stone to the "Jurassic Park" ride at Universal Studios.
Article continues below advertisement
"It's inspiring and you feel so honored to witness it," she said. "And then there's a moment of fear. And then you see something that's cute and cuddly and it spits venom at you. And then it gets more intense. And then the T. Rex is biting your head off. And then you go down a drop and you feel like you're going to die. But then it's like refreshing at the end."
Well then. After such a frightful and tumultuous few months, Blake said she thought the crew deserved a parting gift of sorts. You know — for living to see the end.
The Gossip Girl actress has said the experience was "terrifying" due to the "graphic and violent" nature of the film.
Check out her interview HERE!