NEWS
Blake Lively's Far From Frumpy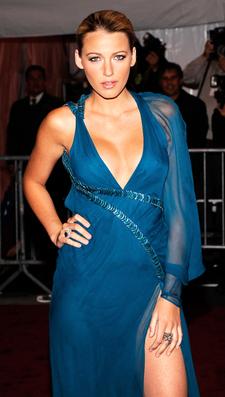 There are about a million reasons to be jealous of Blake Lively, including her handsome co-star and real life leading man, Penn Badgely, and her wicked sense of style. All of those components and more were on the red carpet at the Metropolitan Museum of Art Costume Institute Benefit in NYC on May 4.
Blake, clad in a blue Versace dream of a dress, was very happy with her choice, telling reporters, "I just love deep blue. I think it's so stunning. Everything about this dress, I just love."
Article continues below advertisement
It fit in with her personal style, which Blake describes as a constant evolution.
"It's always changing, but I always tend to look for something more ethereal and flowy and not as straight," she tells OK!. "I don't like anything too frumpy."
Even as she aims to avoid frumpy, Blake has no problem admitting she's not crazy when it comes to exercise. When asked what her fitness regime is, she joked, "Ask me in a month. I've been on vacation, so nothing. I ate a chicken pot pie before I came here."
And it seems her relationship with boyfriend Penn is just as easy and breezy, as he tells OK! of their wardroe discussions, "She asks me what I think and I do the same to her, but ultimately we can wear what we want."
Perfect clothing, boyfriend and she can eat pot pies and still look like she does? Just another reason to be jealous of Blake!
VOTE ON BLAKE AND OVER TWO DOZEN MORE DRESSES IN OK!'s EXCLUSIVE BUY IT OR BURN IT? GALLERY: