NEWS
Book Review: Barney Stinson's 'Bro on the Go' Guide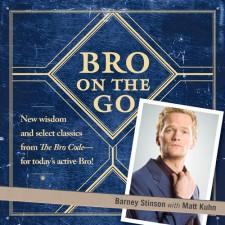 As Valentine's Day approaches your closest bro may need help staying a true and honorable bro. How I Met Your Mother's Barney Stinson's knows exactly how to help your fellow bro with his now published Bro on the Go, available in a handy take-along size!
Bro on the Go is based off of the CBS hit comedy How I Met Your Mother episode "The Code" in which Neil Patrick Harris' character, Barney Stinson, reveals the book that has been handed down from generation to generation that guides men on how to act around their fellow bros.
Article continues below advertisement
The portable handbook is a supplement to the bestseller The Bro Code and is written in the voice of Barney by How I Met Your Mother writer Matt Kuhn.
OK! NEWS: NEIL PATRICK HARRIS POSSIBLY APPEARING ON GLEE
Bro on the Go includes some new rules and observations as well as the classic ones from the original Code and is organized by location. So whether you're on the job, at the game, or with the ladies you won't be without the advice you need!
MORE ON:
Neil Patrick Harris
For example in the "A Bro on a Date" section one code states, "Good word to say a lot on a first date? 'Trustworthy.' Bad word to say a lot on a first date? 'Mommy.'"
OK! NEWS: ALYSON HANNIGAN TO JENNIFER ANISTON: PLEASE GUEST STAR ON HOW I MET YOUR MOTHER
Or if your bro finds himself watching a Kate Winslet film with a girl on Valentine's Day, "A Bro at the Movie" would have just the advice he's looking for: "No matter how bad it is, DO NOT WALK OUT OF A KATE WINSLET FILM: 83 percent chance of a rack cameo, highest of any multiple Academy Award nominee."