NEWS
Bravo's Newest Star Jacqueline Siegel Spills on 'Queen of Versailles,' Her Dream Home and More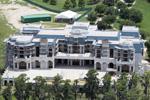 Bravo has been known to have shows about some pretty out-there people (like, basically, every single one of the Real Housewives), but you ain't seen nothing until you meet Jacqueline Siegel. She's the wife of David Siegel, one of the richest men in the country, and together, they are in the midst of building the biggest home in America. It's 90,000 square feet!
Article continues below advertisement
Queen of Versailles, the documentary film about this crazy story and how the house almost didn't happen no thanks to the recession in 2008, is airing tonight on Bravo, so we caught up with Jackie to tell us about it. From her favorite feature in the house to her favorite fellow celebrity mom to why she's so excited to hang out with Andy Cohen on tonight's Watch What Happens Live, Jackie is not holding back. Read below for part 1 of our super in-depth interview. Part 2 will be up tonight at 7:30pm ET before the premiere!...
Photos: All the Details on Jackie Siegel's Huge House
OK!: First things first, why was the big house so important to you? Why did you want it so badly?
Jacqueline Siegel: Well, actually, we just decided to build something that had everything that I wanted, everything David wanted, and it's the house for the rest of our lives. And we didn't even know it was the largest home in the country. But I think with the movie coming out, it just brought so much awareness. It is the largest single family home that's actually lived in America.
Article continues below advertisement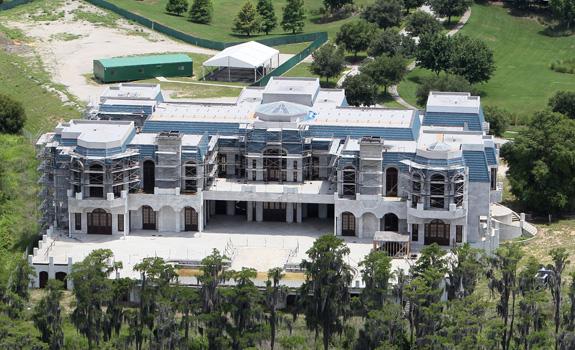 OK!: And this house is the complete opposite from the house you grew up in, right?
JS: Oh yeah. The most expensive home I would ever had dreamed that I would ever live in before I went out into the world was like a $100,000 house. That was my dream. I would've never, I just couldn't imagine living in or building a home like this. You only see those type of homes on TV, from where I live.
OK!: What's your favorite room/feature in the house?
JS: My biggest thing that I wanted is the grand ballroom. I'm really big on charities and I just knew that by having a ballroom big enough I could host spectacular balls and charity events and if I could ask to host charity events, at least I could do it.
OK!: And your husband's?
JS: Well, we both wanted a movie theater. We're doing this movie theater that we're modeling after the opera house in Paris. And its going to be very very ornate but I just know my husband. He's gonna hog the theater and make that his office, even though he has an office in the house. He's gonna hog that theater so I designed another theater in the house that we can still use, for the children so no one has to fight over the theater.
Article continues below advertisement
Watch the film's trailer to get a better feel for how huge this house actually is:
OK! The house has 11 kitchens...was that your idea?
JS: We have a commercial kitchen and we have guest suites which all have their own kitchens and then we have staff quarters and each staff has their own private apartment and so it just kind of adds up.
OK!: When you had to cut back on spending and sell the house after the recession in 2008, how did your kids take the news?
JS: My kids don't want people to know that they come from a wealthy family. They were really happy when they found out they could go to public school. We cut back, we put them in public school, which means no more uniforms. My kids just want to fit in. they're not showy. If I come up to pick them up from school in a Bentley, usually we have a driver that does it, but when I do, in my car, they hide around the corner and make me go around the block to pick them up because they don't want the kids to see the Bentley.
Article continues below advertisement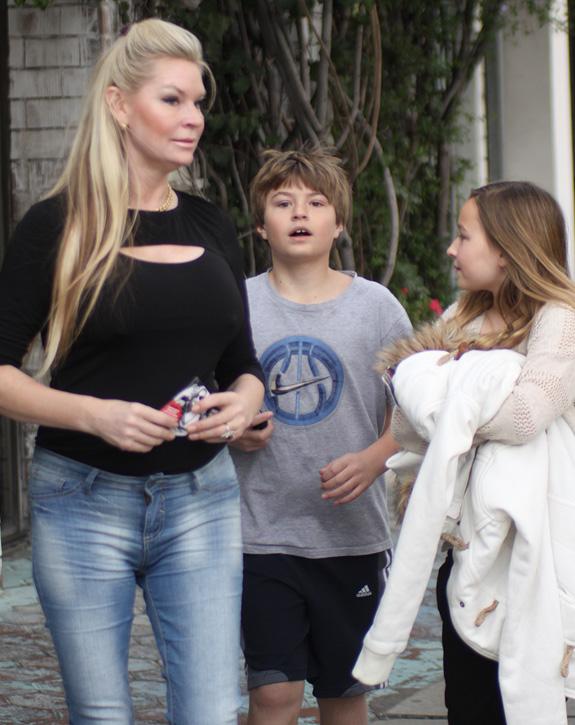 OK!: How has your marriage changed since filming ended?
JS: Well, I think my husband and I became closer and I think he has a new respect for me since all this happened. He appreciates the fact that I did cut back on spending, although I'm here talking to you from the Millenium Mall right now. I probably shouldn't be saying that (laughs). But things have been really good, and like in the movie when people think that me and my husband were having problems in our marriage when you see him looking grumpy, actually Esquire magazine awarded him the grumpiest actor in Hollywood this year. (laughs). But he wasn't depressed at all. He had some big decisions to make.
Come back to OKMagazine.com tonight at 7:30pm ET to read part 2 of the interview, where Jackie talks about her favorite celebrity mom, what she plans to do when she appears on Watch What Happens Live tonight, why she doesn't have Twitter and more!
UPDATE: Read Part 2 of Our Interview with Jackie Siegel Right Here!
Queen of Versailles premieres tonight at 9pm on Bravo, followed by Jackie on Watch What Happens Live at 11pm! Are you going to tune in? Think Jackie will be Bravo's next huge star? What do you think of her story? Tweet us @OKMagazine.