NEWS
'Breaking Dawn' Director Bill Condon Confesses Kristen Stewart Crush!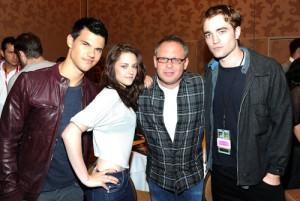 Bill Condon decided to be the director of The Twilight Saga: Breaking Dawn for several reasons, but the most important one being his crush on Kristen Stewart!
OK! NEWS: KRISTEN STEWART SAYS SHE WAS "LOCKED INTO DRESS" DURING BREAKING DAWN WEDDING SCENE
How did Bill become interesting in directing a Twilight movie and how did he convince Summit Entertainment to pick him?
"You'd have to talk with them but I think it was the connection to the material that I felt," Bill explained to MovieLine. "Because it's all told from Bella's point of view, I don't know why I hook into her so much especially in this story."
Article continues below advertisement
"You know it's not going to be an R-rated movie, so it's a great challenge. How do you have the experience without having to be too explicit about it," he explained. "I think that's not a hard thing to do. No one wants to see — no one needs to see a full-on sex scene to have the incredibly intense experience that they're making love, you know? And it's more romantic. The same with the birth; I think it's very visceral, but it doesn't necessarily need close-ups of certain things."
Nice catch on switching "wants" to "needs." We're pretty sure there are some Twi-hards out there who "wanted" to see a full-on sex scene!