NEWS
Bret Michaels Risking Life for 'Celebrity Apprentice' Finale?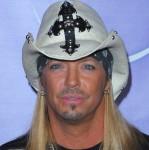 Hospitalized three times in the last few months, most recently for a warning stroke, Bret Michaels may be taking a huge risk by flying to NYC for the Celebrity Apprentice Finale.
While a source at Access Hollywood claims that the rocker is going against doctor's advice by heading to the show, his rep thinks otherwise.
BRET MICHAELS HOSPITALIZED AGAIN FOR WARNING STROKE
"These recent medical complications have been tough but he wants to continue to live his life, enjoy every day and get back on the road," the rep confirmed.
Article continues below advertisement
Even though it may be safe to stay home, the rep explains that Bret wants to continue to live his life without fear.
BRET MICHAELS RELEASED FROM HOSPITAL
"Bret is a very passionate person and refuses to live his life curled up in a ball wondering if or when something else might happen. Being a type 1 diabetic, he has lived with struggles and complications since he was 6 years old, but he always tries to maintain positive attitude and seldom lets things get him down…
Making sure that Bret is taking good care of his Paten Foramen Ovale heart condition, everyone is keeping a close watch on the Poison front man.
BRET MICHAELS RETURNING TO 'CELEBRITY APPRENTICE' FOR FINALE
"As his friends and staff we are all making sure that he is not taking any undue risks and we are certainly taking every precaution possible to insure his health and well being. If and when something else occurs we will deal with it at that time."
Bret was originally hospitalized for a brain hemorrhage in April.