NEWS
Bristol Palin Explains How Her Virginity Was "Stolen" on 'Good Morning America'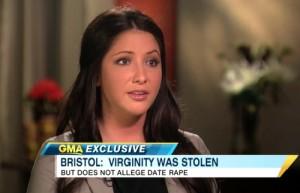 Article continues below advertisement
"You open the book and you talk about, not that your virginity that you lost it, but you use the word 'stolen'. That in essence, Levi got you drunk and stole, again your words, your virginity. Can you clarify that at all?" Robin Roberts asked on Good Morning America.
"That's what it felt like. I'm not accusing Levi of date rape or rape at all, but I am just looking back with the adult eyes that I have now and just thinking, 'That was a foolish decision. I should have never been underage drinking and I should have never gotten myself into a situation like that.' "
Robin then asked, "How do you respond to those who question whether or not you're the right person to talk about abstinence?"
"You know, I hate the word abstinence. I was telling someone earlier that today," Bristol said. "I'm not an abstinence preacher, you know? I think that if you want to prevent teenage pregnancy that's the only option."
"I talk about in the book how I was on birth control and obviously it wasn't used effectively," she adds. "Abstinence is the only way you're going to prevent teenage pregnancy. But if you're going to have sex, practice safe sex. Very safe sex."