NEWS
Bristol Palin is Getting Sued By Former 'Dancing With The Stars' Friend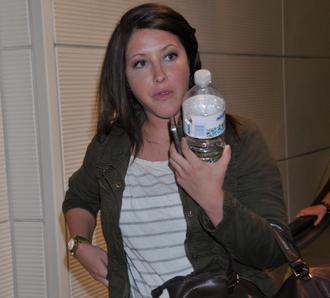 Those Palins can't stay out of the news!
OK! NEWS: BRISTOL PALIN SLAMS BARACK OBAMA'S STANCE ON GAY MARRIAGE
Last week, Bristol Palin was threatened with a lawsuit by her Bristol Palin: Life's a Tripp co-star, Stephen Hanks, who claimed the reality starlet was using his image in show promos without his permission. He also accused her of defaming him in an interview and taping him without his consent.
Article continues below advertisement
While that mess seems to be moved to the back burner, a fresh lawsuit appeared this morning from former Dancing With the Stars contestant Kyle Massey. Kyle's suing Bristol for copyright infringement, saying she stole his ideas and sold her TV project to Associated Television International behind his back. Allegedly, the duo were in talks to shop around their own show until Bristol cut him out of the deal.
"We created the show, registered the show and did all the leg work to bring this idea to TV and to ATI, who stole our concept," Kyle's mom, Angela, said.
The Massey and Palin family reality show was picked up by BIO and then swiftly canned. Without missing a beat, Bristol then sold a concept (minus Kyle) to Lifetime.
OK! NEWS: JWOWW AND SAMANTHA RONSON: SHUT UP ABOUT GAY MARRIAGE, BRISTOL PALIN!
While Bristol may or may not have stolen from him, in order to win, Kyle and family must prove in "sufficient detail" that Life's a Tripp is, indeed, a hybrid project.
"If it's merely the series concept or some ideas, it's not enough.... It has to be sufficiently fleshed out," Michael Elkin, managing partner of Winston & Strawn, told Fox News.
Good luck, Bristol.... Now, if only the show itself were better. Entertainment Weekly described it as a "weird, miserable reality show."