NEWS
Broadway 'Spider-Man' Stunt Actor Falls 30 Feet to Stage Pit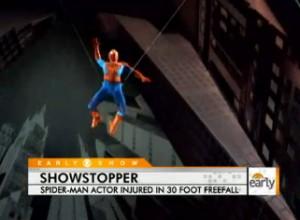 An already beleaguered, delayed and expensive Spider-Man: Turn Off the Dark Broadway production suffered another setback — and this one was much scarier than a hefty price tag. A stunt actor portrayed Spider-Man fell 30 feet from the air to the pit below during a performance last night, shocking the audience watching.
OK! PHOTOS: FIRST PHOTOS OF EMMA STONE FILMING SPIDER-MAN REBOOT
CBS News reported on The Early Show this morning that the accident happened during the last minutes of the show, when a tether holding the stunt actor was believed to have broken, causing him to plummet through the air. He was rushed from the theater to cheers from the audience, and is said to have only minor injuries.
Article continues below advertisement
MORE ON:
Spider-Man: Turn Off the Dark
Some say the show is cursed, or doomed. What do you think — should the show go dark, or keep on going?
CATCH A CLIP OF THE TERRIFYING ACCIDENT BELOW: