NEWS
Brooke Mueller Checks out of Hospital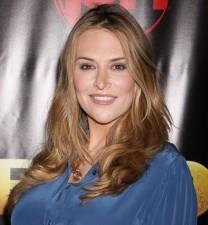 Charlie Sheen's wife Brooke Mueller has checked out of her Los Angeles hospital yesterday, a week after she was admitted for treatment of pneumonia.
"She was released and is doing OK," says her lawyer Yale Galanter.
Brooke was taken to Sherman Oaks Hospital last week with a 105 F temperature and an infection in both lungs, after undergoing emergency surgery to have her wisdom teeth removed, reports CNN.
Article continues below advertisement
Because of her illness a Colorado judge temporarily lifted a protective order that otherwise prevented Charlie, 44, from visiting his wife.
The protective order was issued last month after the Two and a Half Men star was arrested on a domestic violence charge in Aspen, Colorado, on Christmas Day.
Aspen police charged Charlie with felony second-degree assault, felony menacing and a misdemeanor charge of criminal mischief. He was booked under his birth name, Carlos Irwin Estevez.
Meanwhile, Charlie is moving back to the home he was sharing with Brooke and their twin sons, Bob and Max, before the arrest, reports E! Online.
"Brooke can't be there right now because the children have germs so as soon as she gets healthier, she will move back into the home," Galanter says.
When she moves back home, Charlie will need to leave again, according to the terms of the restraining order.
"She was well on her way to recover but if she got a cold or something it could be a setback, so they didn't want to put her in an environment with a lot of germs," Galanter explained.
Article continues below advertisement
Charlie, who was staying at a close friend's house nearby, will have plenty of help from nannies and housekeepers while Brooke is away, Galanter said.
The couple are both expected at a court hearing in Aspen on Feb. 8, where a judge will review the order of protection. The local D.A. is also expected to announce by then whether he'll be pressing charges against Sheen.
Charlie's ex-wife, Denise Richards, weighed in on his domestic problems on The Oprah Winfrey Show yesterday.