NEWS
Bryan Cranston Wore "Less Clothing Than Anthony Weiner" in Julia Roberts Sex Scene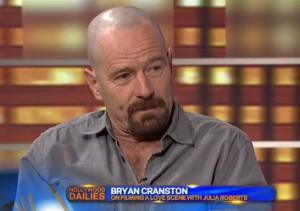 Julia Robert's Larry Crowne character is married to Bryan Cranston and the two share some awkward sex scenes together — awkward for Bryan.
OK! VIDEO: WATCH TOM HANKS & JULIA ROBERTS IN NEW LARRY CROWNE TRAILER
In Larry Crowne, Julia plays a depressed, alcoholic teacher who has Tom Hanks as a student and is married to a porn-obsessed blogger, Bryan.
Bryan chatted with ReelzChannel (via Huffington Post) about a nude scene — on top of Julia.
Article continues below advertisement
"I'm laying on top of her. You know what I'm wearing?" Bryan asks. "Slightly less clothes than Anthony Weiner was wearing.
"They provided me — so kind of them for my modesty — with a pouch," he added. "It's a skin-colored pouch. A man is supposed to put himself inside the pouch and tie a bow. And that's what I wore. That was my wardrobe."
And then Bryan started to sing about it to the tune of "On Top of Old Smokey!"