NEWS
Red Carpet Confidential: Jealous? Victoria's Secret Model Candice Swanepoel Admits She Eats Whatever She Wants And Doesn't Do Cardio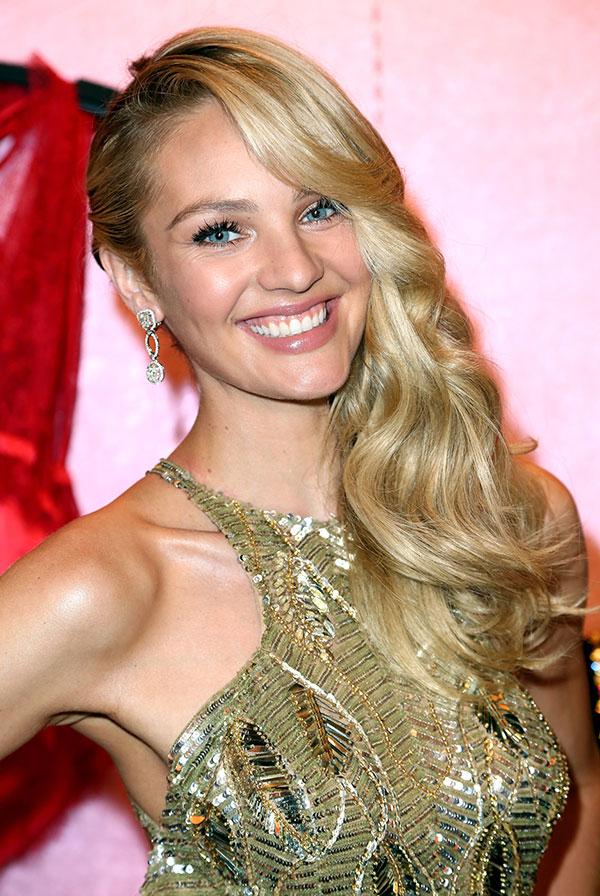 It's crunch time for Candice Swanepoel, who is gearing up to don the $10 million Royal Fantasy Bra in the Victoria's Secret Fashion Show when it tapes next week. (It will air on CBS December 10th)
With good reason, the South African-born supermodel, 25, is making changes to look her best for the occasion: It will be her first time wearing the Victoria's Secret Fantasy Bra, following in the footsteps of such icons as Heidi Klum, Alessandra Ambrosio, Miranda Kerr, Adriana Lima, Selita Ebanks, Karolina Kurkova, Gisele Bundchen and Karolina Kurkova.
Article continues below advertisement
OK! Exclusive: Model Doutzen Kroes' Diet Tips
The $10 million Royal Fantasy Bra Gift Set, designed exclusively for Victoria's Secret by Mouawad, is kind of a big deal. It includes a Dream Angels Demi silhouette and matching belt adorned with over 4,200 precious gems handset with rubies, diamonds, blue and yellow sapphires all set in 18 karat gold. The bra features a pear-shaped center ruby weighing a whopping 52 karats. Whoa!
"Because I burn calories so fast, I have to eat a lot more protein, and eat a lot more often," she tells me Wednesday when she showcases the Mouawad-designed lingerie at Victoria's Secret Herald Square. "Two weeks before, I'll start working out more. We take care of ourselves for a living, so it's never a scramble for me. It's always a last-minute push to be better. Each year, I try to be better than the last."
Article continues below advertisement
Conveniently for Candice, her super-fast metabolism makes a difference, but she is still careful to make smart choices.
OK! Exclusive: Gretchen Rossi's Favorite Nail Trends
"Food-wise, I'm very, very lucky that I can eat whatever I want," she says. "For me, I've always had a healthy lifestyle. If I eat something that's not fresh, I feel it immediately, so I crave good food. I crave meat. I grew up on a dairy and beef farm, so I crave that. I don't cut anything out, and I just work out more."
Still, Candice's metabolism influences her workout activities.
"I don't do any cardio because I burn calories too quickly," she says. "I do a lot of resistance training, a lot of bum and legs, boxing."
What difference does resistance training make?
"The slower you work out, the more you feel it, and the more you really build," she explains. "A lot of people just want to do their workouts quickly, and it doesn't work. The workouts I do—I feel each muscle that I'm working. Because I've been working out so many years, it's a machine that I know, so my trainer will be like 'OK, we're gonna work out this part, ' so I know the angles and the way I need to do it for best results."
Photos: The 9 Best Beauty Looks from the CMA Awards
Here's my pic with Candice (and the Royal Fantasy Bra):
Are you jealous that Candice can eat whatever she wants? Would you like to wear the Victoria's Secret Royal Fantasy Bra? Tweet us @OKMagazine.