NEWS
Carrie Underwood Answers Gay Marriage Backlash Questions in London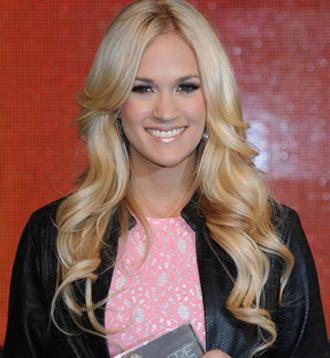 Last week, Carrie Underwood opened up to The Independent about how she was in favor of gay marriage, alluding to the fact that it isn't humane to deny people basic rights like marriage.
OK! NEWS: CARRIE UNDERWOOD WINS BIG AT CMT AWARDS
"As a married person myself, I don't know what it's like to be told I can't marry somebody I love, and want to marry," she said. "I can't imagine how that must feel. I definitely think we should all have the right to love, and love publicly, the people that we want to love."
Article continues below advertisement
Needless to say, Carrie is a country music star with legions of conservative fans who wasted no time hopping on Twitter to voice their disappointement. One conservative blogger, Joseph Farah, CEO of religious website WND, wrote:
"Carrie Underwood suggests God did not set rules. Yes, He did. The Ten Commandments are not suggestions. They represent the difference between life and death."
Today while promoting her new album in London and doing press before a sold-out show on Thursday, she told a reporter for the Associated Press that she has no apologies for her opinions.
"I was asked a difficult question in the last five minutes of an interview and I answered it the best way I knew how, and after that, I do what I do. I love making music and I generally try to stay out of any kind of controversy," she said. "I just really try hard to do what I do and try to be nice to people and make great music, and if people think they can look up to that, that's wonderful. If not, that's okay, too."
OK! NEWS: CARRIE UNDERWOOD'S BLOWN AWAY DEBUTS AT NUMBER ONE
She then gave the usual celebrity quote about her reluctance to be a "role model." "The role-model word is really scary to me, because no matter what happens in your life, something you do, wear, say, sing, whatever — somebody somewhere is probably not going to like it too well."