NEWS
Casey Anthony to Piers Morgan: "I Didn't Kill Caylee"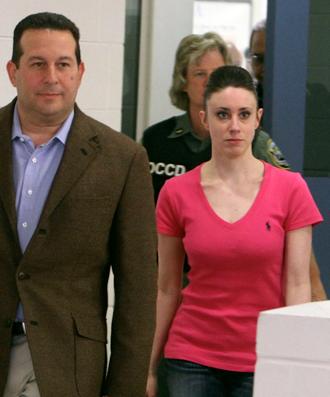 Last July, Casey Anthony was acquitted of charges in the death of her 2-year-old daughter, Caylee, but sentenced to four years in jail for lying to authorities. She was released a few days after being booked due to credit for time served and good behavior, but time hasn't erased the stigma.
OK! NEWS: CASEY ANTHONY TRIAL: JURY FINDS CASEY ANTHONY NOT GUILTY OF FIRST DEGREE MURDER
Casey chatted with talk show host Piers Morgan last night, and during the 10-minute phone conversation she contradicted the widespread pulic perception of her as a cold-blooded, out-of-control party girl.
Article continues below advertisement
"Obviously, I didn't kill my daughter," she said. "There's nothing in this world I've ever been so proud of. There's no one I loved more than my daughter. She's my greatest accomplishment."
While Casey cops to being a "stupid kid," she claims to never have done drugs other than "a little bit of marijuana," and says since being on probation she's probably only had a handful of beers.
"The public perception of me is bad, absolutely horrible," she said. "I'm 26 now, and I've gone through hell."
OK! NEWS: KIM KARDASHIAN IS "TRULY SICK" OVER CASEY ANTHONY NOT GUILTY VERDICT
Casey is living in seclusion now, where she told Piers she spends most of her days reading and watching television. She wanted to stress how she's avoided making money off the tragedy.
"I'm not making gazillions of dollars at the hands of other people, or trying to sell myself to anyone willing to throw a couple of dollars at me," she said. "The caricature of me that is out there — it couldn't be further from the truth."