NEWS
'Castle' Star Creates "Sex Tape" to Promote His Music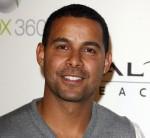 Don't look now but yet another celebrity has released a sex tape! Castle star Jon Huertas released a tape, except there's a catch. He released it to promote a new single, "Sex is the Word." Find out more after the jump!
OK! NEWS: JENNIFER LOPEZ SEX TAPE UPDATE - JUDGE ORDERED FOOTAGE TO BE LOCKED IN SAFETY DEPOSIT BOX
Turns out, the actor-musician created a faux "sex tape," according to PopEater. Better yet, this piqued the interest among his 35,000 Twitter followers prior to releasing the sexy music video. Jon told PopEater, "Originally, I was going to do a video that was a throwback to Grease, but then, because my album is called Sex Tape, and every one of my songs has its roots in sex in some way, I decided that it would be smarter to have the video be a little bit more about sex."
Article continues below advertisement
Sounds like Jon's a pretty creative guy and stirred the pot at first to see what the buzz would create. "I went on Twitter and started an argument between me and a character I created, whose Twitter name was "South Belle," to see if any blogs picked up on it. And it exploded. What was funny was that I thought I was going to make my fans want to see this sex tape of mine, but it had the opposite effect."
Everyone wanted to back him up and said they wouldn't watch the tape, something he didn't expect! " What I had to do was....I said: I'm not going to take a negative attitude to the sex tape, I want to see it. So then everybody flip-flopped."