NEWS
Cee Lo Green Semi-Apologizes for Homophobic Twitter Rant Against Music Critic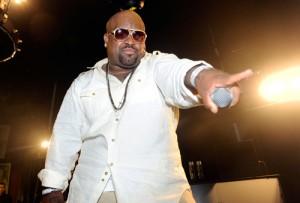 Cee Lo Green is somewhat sorry for an apparently anti-gay Tweet he made against a Minneapolis, Minn., music critic, but only somewhat.
OK! VIDEO: WATCH GWYNETH PALTROW PERFORM "FORGET YOU" DURING GLEE CONCERT IN NEW JERSEY!
A local Minneapolis music editor, Andrea Swensson wrote a review about Cee Lo and Rihanna's June 16 show that was not exactly favorable of Cee Lo. One comment Andrea made was, "His set at the Target Center failed to measure up to the fun factor of his recorded material."
Article continues below advertisement
Cee Lo decided to write his comment back to her via Twitter saying (via E! News), "I respect your criticism, but be fair! People enjoyed last night! I'm guessing you're gay? And my masculinity offended you? Well f**k you!"
But now he's semi-sorry.
"Apologies gay community! What was homophobic about that? I said I was guessing he was gay which is fine but its nice to know what u think of me," he wrote, but then deleted.
OK! NEWS: CHRISTINA AGUILERA PAID OVER $225,000 PER EPISODE OF THE VOICE?
Cee Lo then decided to release a statement (and subsequently realized that the author of the music critic was female).
"She was very critical of me. At the time I didn't even know what gender the person was," he explained. "I was being a little outspoken that night, a little outrageous. I always expect people to assume that everything I do is part of my character and sense of humor. I assumed that whoever it was would assume that it was all in good fun."
"I most certainly am not harboring any sort of negative feeling toward the gay community," he added. "I don't have an opinion on people with different religious, sexual or political preferences. I'm one of the most liberal artists that I think you will ever meet, and I pride myself on that. Two of the remaining members that I have on my team on The Voice are proud and outspokenly gay. We just did a team performance of 'Everyday People' and I picked that song for us to do specifically to highlight how we can get along even though we're so different."