NEWS
Celeb Chef Candice Kumai Shares 5 Oscar Party-Worthy Dishes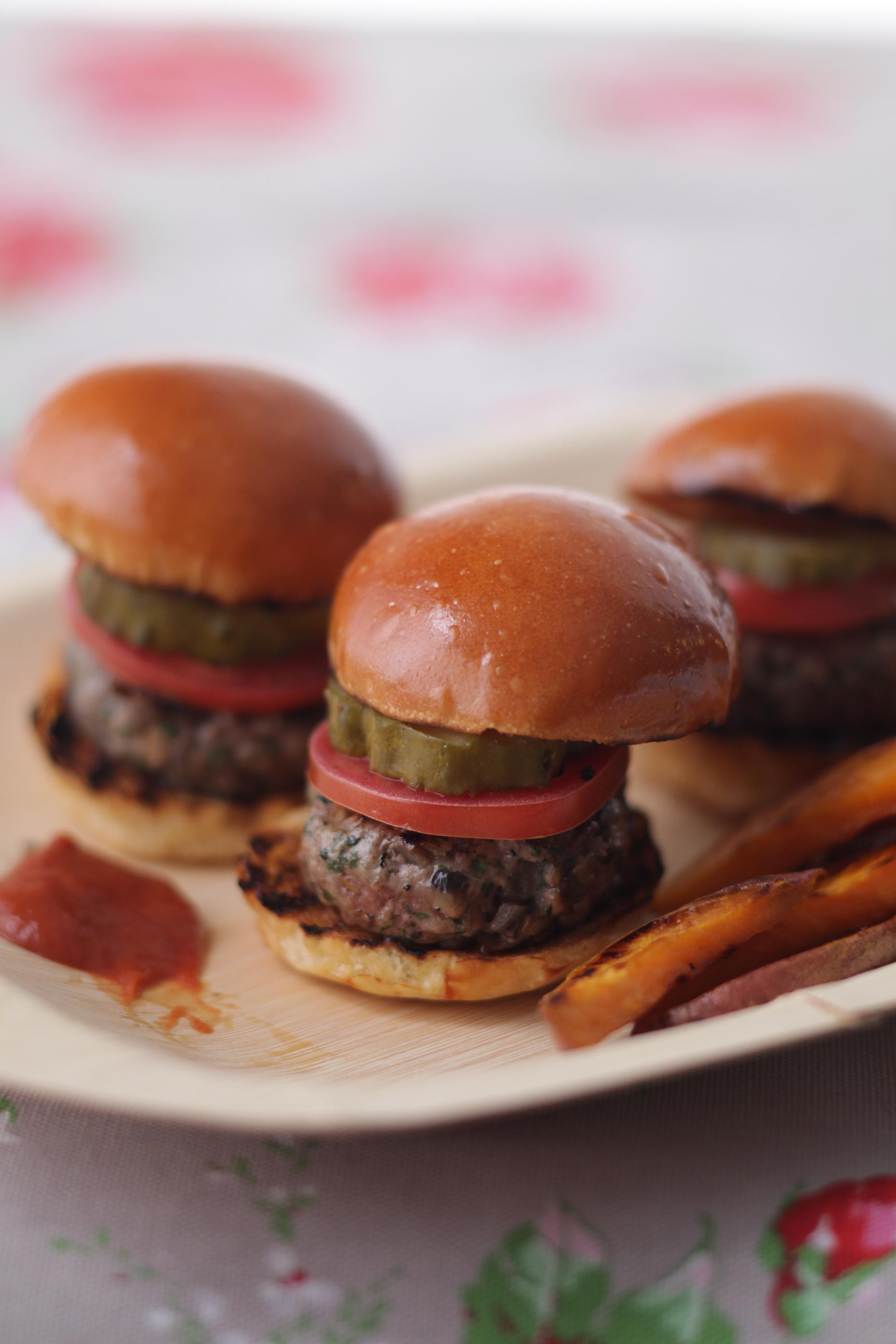 Celebrity chef Candice Kumai, who stars in E!'s upcoming foodie series Playing with Fire and author of Cook Yourself Sexy, shares five Oscar-worthy dishes that your party guests are sure to gobble up. Take it away, Candice!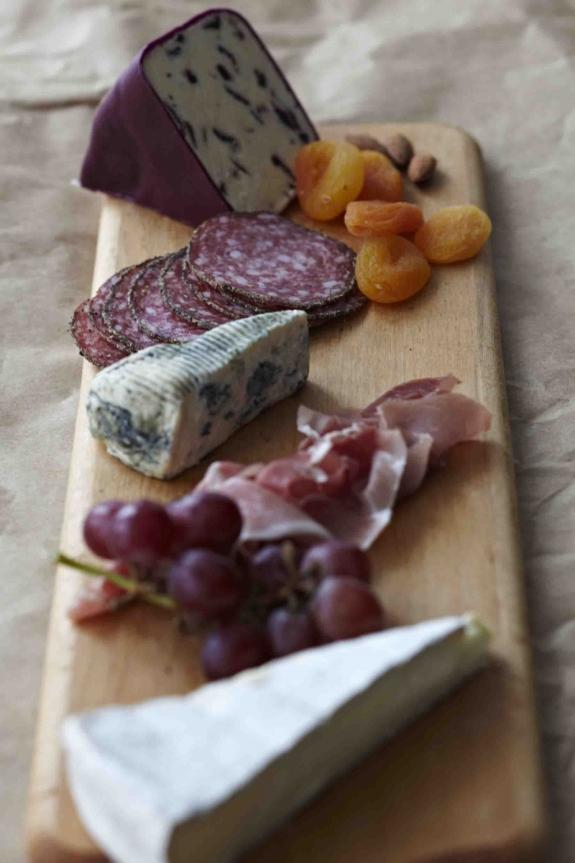 photo: Lauren Volo
The Perfect Wine and Cheese Board
Always start the party off right with a simple, yet elegant cheese board. It was said that Lincoln loved his cheese and crackers. In celebration of Lincoln being nominated for an Oscar, enjoy this is perfect for your Oscar party.
Article continues below advertisement
Pick up a few enticing cheeses from your local grocer. I always love a great sharp blue cheese on board, such as a Stilton or Roquefort. Second, a cream Brie allows for a change in texture—try a triple cream or throw in a wild card like a creamy Chevre. And you simply cannot forget a smoky Gouda. A hard cheese, like a Parmigiano Reggiano or a Swiss Gruyere (fantastic with Fuji apples) finishes off a cheese board beautifully.
Don't forget to choose a few pretty sides to accessorize that board. Choices like: Fresh figs, fresh apple slices, champagne grapes, dried apricots, dried cherries, smoked almonds, Spanish olives or even some sundried tomatoes can be a perfect treat for your guests.
Build with some fresh sliced baguette bread, whole wheat crackers and mini-toasts. Place a few knives and napkins out, and you're golden.
Article continues below advertisement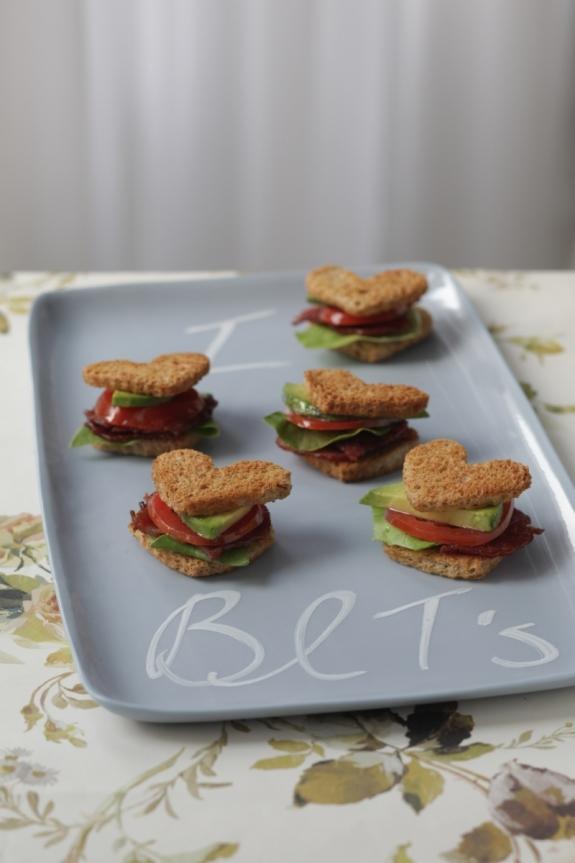 photo: Quentin Bacon
Skinny Mini BLT Bites
A small bite, that just says, "I love you." (Everyone dies over these) So simple to make and all you really need is some tasty bacon and a baby heart-shaped cookie cutter.
Makes 6 mini bites
12 slices whole-wheat bread
2 teaspoons extra-virgin olive oil
1/4 teaspoon garlic powder
1/4 teaspoon sea salt
3 slices apple-wood smoked bacon or 6 slices lean deli chicken, ham, or turkey tossed with a pinch of smoked paprika (pimentòn)
2 tablespoons Honey Mustard
2 small plum tomatoes, sliced crosswise into six 1/4-inch-thick rounds
12 bibb lettuce leaves
1 avocado
1/2 lemon or lime
Heat the oven to 350°F. Place the bread on a cutting board. Use a 2-inch round cookie cutter (or a glass with a 2-inch wide rim) to punch out 3 circles from each slice. Pour the olive oil into a small dish and use a brush to dab one side of each round with a little oil. Season with a pinch of salt and some garlic powder and then place on them seasoned-side up on a baking sheet and set aside.
Article continues below advertisement
If using apple-smoked bacon, cut it crosswise into 2-inch lengths (to fit the length of the bread). If using ham, stack the slices and use the cookie cutter to punch out two 2-inch circles per slice. Place the bacon or ham on a second rimmed baking sheet. Place both baking sheets in the oven and cook until the bread is golden-brown and toasted, about 15 minutes, and the bacon or ham is crisp and browned, (about 20 minutes for the bacon and 15 minutes if using ham).
Halve and pit the avocado and peel away the skin. Slice each half crosswise so you have 4 quarters, the slice lengthwise into 1/4-inch-wide strips. Sprinkle with a little lemon or lime juice to prevent browning and set aside.
Set up your assembly line: bread to your left followed by a small dish of honey mustard, the plate of bacon or ham, the tomatoes, the lettuce and the avocados. Assemble the sandwiches, spreading 1 teaspoon of honey mustard on the seasoned side of the bottom bread slice, then top with 1 1/2 pieces of bacon or 1 slice of ham, a tomato, two lettuce leaves, and a couple of avocado slices. Add another 1 1/2 pieces of bacon or ham slice and cap with another toast circle (seasoned side down) .
Article continues below advertisement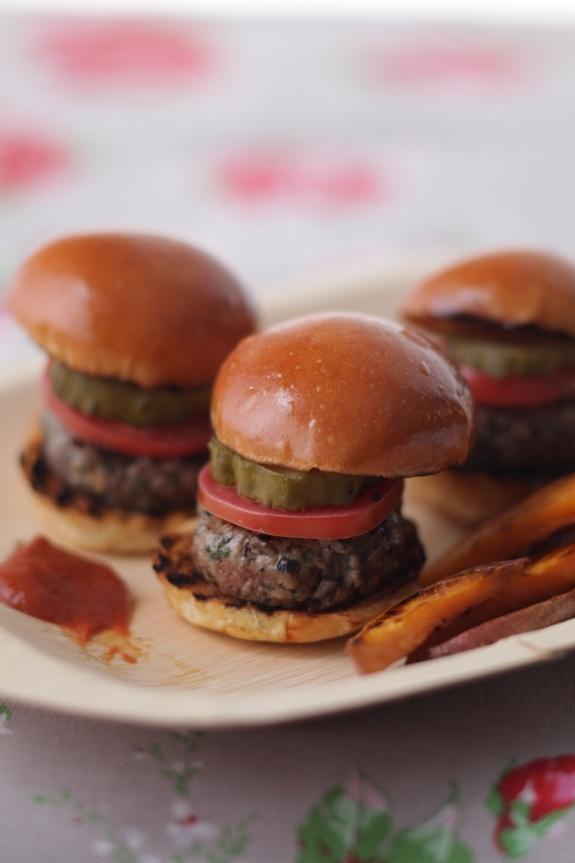 photo: Quentin Bacon
Juicy Oscar Sliders with Caramelized Onions and Mushrooms
Makes 8 mini burgers
With a total "dude flick" like Argo, try these mini Juicy Oscar Sliders with Caramelized Onions and Mushrooms. They will win over any crowd male or female. Who doesn't love the perfect mini slider?
1 tablespoon plus 2 teaspoons extra-virgin olive oil
1 cup (about 3 ounces) cremini mushrooms, stemmed and finely chopped
1 small red onion, finely chopped
2 garlic cloves, finely minced
1/2 teaspoon dried oregano
1/4 cup finely chopped fresh parsley
1/2 teaspoon sea salt
1 pound 80/20 ground beef for a leaner slider, use 96% lean ground beef -
8 sweet rolls or small, soft dinner rolls (I prefer King's Hawaiian)
2 plum tomatoes, thinly sliced
Condiments: Honey-mustard, ketchup, pickles (optional)
Article continues below advertisement
Heat 1 tablespoon of olive oil in a medium nonstick skillet over medium heat. Add the mushrooms, onions, and garlic and cook, stirring often, until the onions are soft and golden brown, about 4 minutes. Stir in the oregano, parsley, and sea salt, turn off the heat and transfer to a medium bowl to cool.
Place the ground beef in a large bowl, add the cooled mushroom mixture, and gently fold the two together. Divide the ground beef mixture into 8 equal balls and then gently form each into semi-compact 2 1/2- to 3-inch thick patties. Split the rolls in half and brush the cut side with some of the remaining 2 teaspoons of olive oil. Set aside.
Heat a nonstick grill pan or skillet over medium-high heat for 2 minutes. Add the burgers and grill on each side until browned, about 2 minutes per side for medium. Transfer to a plate while you grill the rolls, cut-sides down, until golden and etched with grill marks from the pan, about 1 minute. Place each patty on a bun bottom and top with a slice of tomato. Spread your choice of condiments on each slider, enjoy.
Article continues below advertisement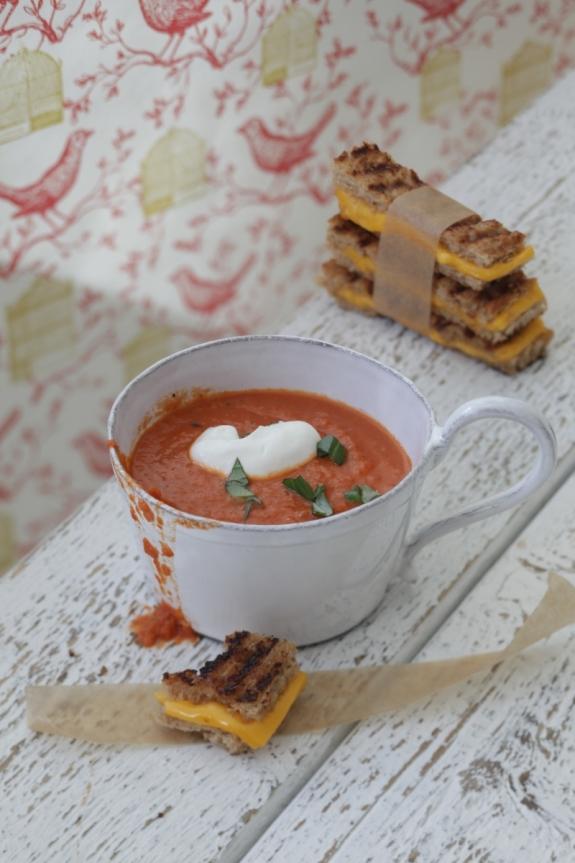 photo: Quentin Bacon
Mini Croque Monsieur Bites
Serves 4
Perfect for anyone who loves the elegance and simplicity of French cuisine (not to mention total dunk potential with some tomato soup!). These are also simple and absolutely delicious finger-foods for any sexy red carpet event.
1 tablespoon Dijon mustard
1 teaspoon light mayonnaise
4 slices whole-wheat or whole-grain bread
6 ultra-thin slices Asiago, Gruyère, or Cheddar cheese
6 lean slices deli chicken, ham, or turkey (optional)
2 teaspoons extra-virgin olive oil
Mix the mustard and mayonnaise together in a small bowl and spread 2 of the bread slices with the Dijonnaise. Top with 2 slices of cheese and 3 slices of deli meat (if using), then cover with a final slice of cheese. Place the remaining bread slices on top.
Heat the olive oil in a medium nonstick skillet over medium heat. Add the sandwiches (you should hear them sizzle when they hit the pan) and grill until browned, about 2 minutes. Flip over and brown the other side, 1 to 1 1/2 minutes longer (check the second side often as it usually browns more quickly than the first).
Article continues below advertisement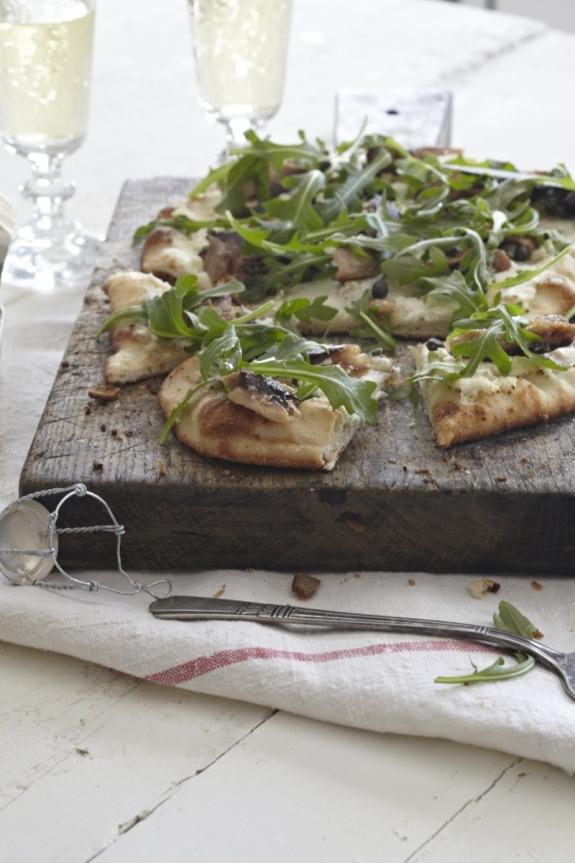 photo: Lauren Volo
Roasted Fig & Honey Chevre Flatbreads
Makes 8 servings
In awe of The Silver Linings Playbook, try serving up my Sweet Roasted Fig and Chevre Flatbread Pizza. Simple, elegant and a total must at every party, this is also a great match for any friend that might be a friendly-vegetarian.
Ingredients:
8 fresh figs, tough stem removed and halved (if you cant find figs, opt to swap for sliced Fuji apples or Bosc pears.
1 tablespoon honey
2 cups & 1 tablespoon balsamic vinegar
1 medium red onion, halved and thinly sliced
2 tablespoons extra-virgin olive oil, divided
1 store-bought pizza dough
4 ounces fresh Chevre, (goat's cheese)
1 cup arugula
Preheat oven to 425°F
Toss the figs in a baking dish or sheet tray with 1 tablespoon honey and 1 tablespoon balsamic. Roast for about 15-20 minutes until softened. Cool.
Article continues below advertisement
Heat the remaining 2 cups balsamic vinegar in a small saucepan over medium-high heat until it comes to gentle boil. Reduce the heat to medium and simmer until the balsamic is reduced to 3/4 cup, and has the consistency of maple syrup, about 30 minutes. Cool to room temperature.
Heat 2 teaspoons of the olive oil in a large skillet over medium-low heat. Add the onion and cook, stirring occasionally until the onion is golden, about 20 minutes.
Roll out the pizza dough and place on a large sheet tray. Bake at 425°F for about 10-15 minutes until golden brown. Transfer flatbread to a large platter and brush with remaining 1 teaspoon olive oil and a sprinkle of salt. Top with the caramelized onions, figs, a smear of the goat cheese and arugula. Drizzle with the balsamic reduction and cut into 16 pieces.
What will you be serving up at your Oscar party this Sunday? Give us your ideas in the comments below or tweet us @OKMagazine.com.