NEWS
Chace Crawford On "Awesome" Elizabeth Olsen: "We'd Have Wine And Talk"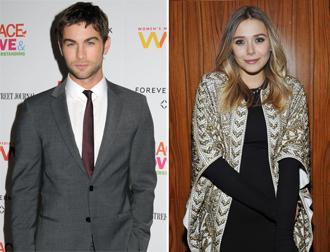 Could you imagine being paid to sit in a car with Chace Crawford? One lucky girl got just that experience!
While at the NYC premiere (sponsored by Forevermark) of his film Peace, Love & Misunderstanding in NYC, Chace explained to OK! how he took control of getting to the set.
"It was like a paid vacation for me. I was working on Gossip Girl and they had given me Friday's off in a rental car," Chace told OK!.
Article continues below advertisement
"They actually had a girl who was an assistant; she was supposed to drive, but I don't get many opportunities to do so, so I was like, 'Give me the keys! I'm driving.' She's like, 'What do you want me to do?' I was like, 'Just talk to me; listen to music.' We would drive to the film set like every weekend for two hours."
Sounds like such a tough life for the poor assistant! Ha!
OK! NEWS: CHACE CRAWFORD TALKS 'GOSSIP GIRL' MOVIE, SERIES FINALE
Another girl who got to experience Chace's charms was co-star Elizabeth Olsen of whom he couldn't have been more fond.
"Lizzie was awesome. I feel kind of special because it was her first thing ever, behind the camera, I mean. She had done a lot of theater at NYU. But, she had taken off, I guess, and we became good friends."
"It was one of those things; I didn't have any expectations," he said. "She's super-talented. We would go back and have wine and talk about scripts."
OK! NEWS: CHACE CRAWFORD REVEALS "TRUST ME, YOU DON'T WANT ME BABYSITTING!"
"She was like, 'I'm actually reading for this cool thing, this Sean Durkin project. He's this upcoming director, it's about a cult.'"
"She literally shot our movie in five weeks and they stayed, maybe had a five-day gap before shooting Durkin's Martha Marcy May Marlene." Well, we all know how that turned out!
You can catch Chace and Elizabeth when their film opens on June 8.