NEWS
Chelsea Handler Speaks Out Against '16 and Pregnant': "I Had an Abortion When I Was 16"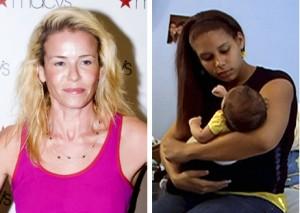 In a recent interview, Chelsea Handler revealed she does not agree with the MTV show 16 and Pregnant and shared a shocking confession of her own regarding teen pregnancy.
OK! NEWS: 16 AND PREGNANT STAR JORDAN WARD ANNOUNCES SHE'S PREGNANT AGAIN
Chelsea spoke with The New York Times about her style of comedy and said she doesn't discriminate.
"I try to make fun of everyone as often as possible, especially minorities," Chelsea said. "I'm a Jewish woman, so..."
Article continues below advertisement
"People are too P.C.," she explained. "We need to be focusing on other things. We're seeking out such grossness in human behavior and want such mindless entertainment. The Real Housewives of Atlanta and some of these other shows are more racist."
And then she started to go off on the hit MTV show.
"Or 16 and Pregnant. Getting rewarded for being pregnant when you're a teenager? Are you serious?" she asked. "I mean, that makes me want to kill somebody."
OK! NEWS: CHELSEA HANDLER IS HEADED TO NBC WITH NEW SITCOM
And Chelsea continued by sharing her own experience with teen pregnancy.
"I had an abortion when I was 16. Because that's what I should have done," she claimed. "Otherwise, I would now have a 20-year-old kid."
"Anyway, those are things that people shouldn't be dishonest about."
What do you think about Chelsea's confession and statements against 16 and Pregnant? Do you agree or disagree with Chelsea's comments?