NEWS
Chris Harrison Talks 'The Bachelorette': Ryan "Crossed the Line This Week" with Emily Maynard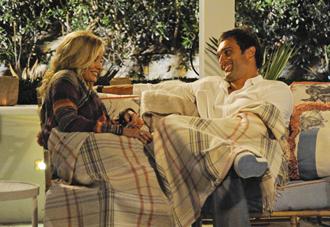 If there's anyone who knows the guys on The Bachelorette best, it's the show's host Chris Harrison! This week in his blog, Chris dishes on all the drama episode four had to offer, including controversial contestant Ryan, who seems more interested in being the next Bachelor than he is in Emily Maynard.
"Ryan is quickly becoming my favorite to quote this season," Chris says in his weekly blog on EW.com. "I like to call them Ryan-isms."
Article continues below advertisement
OK! NEWS: BACHELORETTE RECAP: EMILY MAYNARD GOES ON THE DREADED TWO-ON-ONE DATE AND REVEALS HER CRUSHES!
"There is a very fine line between confidence and arrogance and he has definitely crossed that line this week. He is extremely sure of himself and feels like he's got Emily figured out. The only problem is it's Emily who's got everything figured out," Chris explains, adding, "This week my favorite Ryan-ism was, 'God designed you to be a beautiful woman, so be a beautiful woman.' With gems like that it's hard to believe he's still single." We totally agree, Chris!
Someone else Chris doesn't seem to be a huge fan of is single dad Doug, who Emily deemed "too perfect" — but is he really this amazing, humble person he claims to be?
"Is he the greatest guy to ever walk the planet, or is there more to this guy?" Chris asks of Doug. "I found it interesting that Emily drew parallels between Doug and the way Brad Womack was with her. Saying and doing the right thing all the time isn't always attractive. In fact, for Emily, it's raised some red flags."
Article continues below advertisement
"There's no doubt that Doug is a good guy and a loving father but Emily definitely needs to see more of "every-day-Doug" if this relationship is going to go any further," Chris adds, admitting that Doug referencing himself in the third person is pretty darn annoying.
As for how Chris feels about two of Emily's favorites, Arie and Jef, the host says "there's no question about the chemistry between Arie and Emily," but there is some about the spark with Jef.
"And while she has a smile on her face now, if it was a big enough deal for her to bring up during our deliberation, it's something to pay attention to," Chris reveals.
Who is your favorite contestant?
Read more of Chris Harrison's blog on EW.com.