NEWS
Christian Bale "Had it Coming"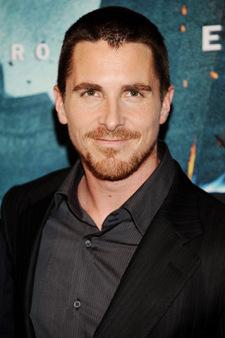 If you knew Christian Bale like Christian Bale knows himself, his recorded tirade at a crew member on the set of Terminator: Salvation, might not have come as such a shock.
"I've never been laid back and cool at all," the Dark Knight star told Esquire UK in their June issue. "I always expend a lot of energy and get very hot over things."
However the actor, 34, isn't trying to distance himself from the incident, which caused quite a stir among fans looking forward to the next Terminator movie.
Article continues below advertisement
"It's not excusable what I did. I went way overboard. A lot of it was to do with the scene we were doing and stupid as it may sound to a lot of people, my character was going through a great deal in that particular scene," he e xplains. "The person on the receiving end is a grown man. Believe me, he really wasn't fazed by it."
His self-professed hot demeanor combined with the intensity of the scene might have been part of the problem, but Christian takes full responsibility for his actions, which included swearing at the crew member.
"Like I said, I had it coming. It should never have been recorded. It was recorded for jollies. But I'm not trying to cover up," he says. "So there's not embarrassment in that I wanted to keep it hidden. I'd done it in front of a whole lot of people. I take full responsibility for it. I've never said anything different. I'm not blaming it on anything. I took it a bit too far."
Something he isn't as willing to talk about is his friend and co-star in Dark Knight, the late Heath Ledger. Christian admits he didn't watch or read any of the coverage of his death last January.
Article continues below advertisement
"I paid no attention to it. I knew him, I knew the family and why the hell would I sit there listening to idiots who don't know anything at all? I literally didn't read anything, didn't watch anything after he died. If I happened to be watching anything that came on, I switched over straightaway."
He will talk about his skill and his personality on set, revealing that he enjoyed his company on and off the set, not a common thing for him within the industry.
"Many times I'll work with actors and I can tell they're thinking, "What are you doing? Why are you going that far with it?" or "You're nuts!" With Heath, I could feel him going, "I love it!" It felt like we were really pushing each other on, to the limits of where you can go with it," he says. "He was a good guy. There's not a lot of actors who I stay in touch with. But Heath was one of them."