NEWS
Christina Hendricks On Obsession with Her Cup Size: "It's Weird, But it Doesn't Surprise Me"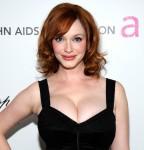 Curvaceous actress Christina Hendricks has a bodacious body envied by many women, but ask the Mad Men star the one figure she admires the most and she'll say "Jessica Alba."
So what does the redhead think about the women who cite her physique as their ideal? "Really? They don't say Jessica Alba? 'Cause that's what I say!" she tells Health magazine.
OK! NEWS: CHRISTINA HENDRICKS SHARES STYLE SECRETS
"It's such a compliment, because of all those times I had agents who were like, 'You have to lose some weight,' and all of a sudden, people are celebrating it. It's like: 'Oh, thank you! Thank you for letting me be me.'"
Article continues below advertisement
Asked what she thinks about the number of Google searches for "Christina Hendricks' cup size", she says, "It's weird, but it doesn't surprise me.
OK!'S BATTLE OF THE CLEAVAGE: MEET THE CONTESTANTS
"I made the grave mistake after one awards show of reading comments online about what I wore, and I was like, gasps 'Oh my God, people are so mean!' I still remember all those negative comments, despite all the wonderful positivity. That's why we're all in therapy! We remember the 10 bad things that happen to us instead of the 100 nice ones.
So what's the key to body confidence? "I guess my mom raised me right. She was very celebratory of her body. I never heard her once say, 'I feel fat.' Back when I was modeling, the first time I went to Italy I was having cappuccinos every day, and I gained 15 pounds. And I felt gorgeous" says the 35-year-old.
OK! NEWS: TV'S HOTTEST COUPLES
"I would take my clothes off in front of the mirror and be like, 'Oh, I look like a woman'. And I felt beautiful, and I never tried to lose it, 'cause I loved it."
Christina, who recently tied the knot with actor Geoffrey Arend, describes how marriage has changed their relationship.
OK! NEWS: JANUARY JONES' HIT & RUN — MAD MEN STAR FLEES SCENE OF AN ACCIDENT
"I feel even more nurturing toward him," she says. "Now I'm like, 'Oh, you're my baby! I gotta take care of you. You've gotta be safe and healthy, and I've got to be sure that you'll be there until the end, because I really love you! And when something starts to aggravate either of us, it's like, 'Wait a minute, this is not a person who does bad things intentionally'."