NEWS
Conan O'Brien Chooses a Random Tweeter to Follow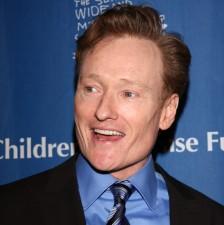 Boredom has officially set in for the unemployed comedian Conan O'Brien, but we're all benefiting from it — especially Sarah Killen! "I've decided to follow someone at random. She likes peanut butter and gummy dinosaurs. Sarah Killen, your life is about to change," Conan Tweeted. PopEater called this Sarah up, a 19-year-old from Fowlerville, Mich., to find out just how her life has changed since Conan started following her!
Article continues below advertisement
OK! NEWS: IS CONAN O'BRIEN HITTING THE ROAD WITH LIVE STAND-UP SHOW?
Sarah, or @LovelyButton on Twitter, was chosen randomly by Conan as the only person he'll follow and since then Sarah's followers has skyrocketed.
"Three followers, Sarah told PopEater of how many followers she started with before Conan. "Now I'm up to 16,000+ in just a few days."
But, Sarah was warned about Conan's plot beforehand.
"I was sent a message on Thursday March 4 asking if it was okay," she explained. "I replied back on Friday and five minutes later, he was following me. I had a tiny heads up."
At first she thought it was all just a big joke, but who could blame her!
"It was really vague," she said. "The message said he wanted to follow someone at random and wanted to know if it was okay, warning me that I would get a lot of followers. I didn't know if they had sent it to a bunch of people just to get approval."
OK! NEWS: JAY LENO'S LOFTY LINE-UP FOR RETURN TO TONIGHT SHOW SPOT
Sarah and her fiancée were were big Conan fans beforehand, so how could she say no? Although it's not like it's been a burden to her at all!
Article continues below advertisement
"It has really helped out," Sarah explained of her new Conan connection. "I haven't had anything negative happen so far. I'm getting married on Sept. 25, and we didn't know if we would be able to afford it. Now I'm getting custom made shoes and a dress from Kelima in NYC. They offered a gown in exchange for promoting their favorite charity, the Children's Hunger Fund. We're getting a limo, Classic Creations is giving us wedding bands and there's a vineyard in California sending us wine. We've got it all covered now..."
Will Conan be invited to her wedding?
"Absolutely. My fiancee wants Conan to be his best man," she said. "That would be really cool. But Conan is going to have a new show that starts the same day as our wedding. But hey, if he wants us to come on there, we'd get married on his show. That would be fantastic."
So now that Sarah's Twitter is in the spotlight, is she scared of what she Tweets?
"Not really. It's kind of like being at school," she explained. "I'm still myself, just slightly edited. No cursing or talking about boogers."
Since becoming Twitter friends, Conan has found plenty to comment on! He Tweeted: