NEWS
Conan O'Brien on 'The Tonight Show': "It was Like a Marriage Breaking Up"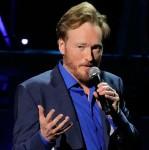 For the first time since leaving The Tonight Show, Conan O'Brien opened up to 60 Minutes on Sunday saying the past six months have felt like going through a divorce. "I went through some stuff," Conan said. "I got very depressed at times. It was like a marriage breaking up suddenly, violently, quickly. And I was just trying to figure out what happened."
Article continues below advertisement
When NBC decided to take away Conan's job and give it back to Jay Leno, Conan was heartbroken.
"This year is still incomprehensible," Conan told 60 Minutes (via Popeater). "The amount of stuff that's happened to my life in the last year ... it's gonna take me a long time to process it."
Jay left Tonight last year and was given a prime time show five nights a week while Conan took over Tonight, which had been an ongoing plan for five years.
However, Jay and Conan were receiving poor ratings, which put David Letterman ahead.
OK! VIDEO: BARACK OBAMA GETS COMEDIC WITH JAY LENO
So, NBC offered Jay a half-hour show at 11:5 p.m. and offered Conan to keep the show name, but start a half hour later. Conan said no and Jay took his old job back.
"He went and took that show back and I think in a similar situation, if roles had been reversed, I know — I know me, I wouldn't have done that," Conan said.
Article continues below advertisement
"If I had surrendered The Tonight Show and handed it over to somebody publicly and wished them well — and then ... six months later," he added. "But that's me, you know. Everyone's got their own, you know, way of doing things."
I'm not sure these people even really want me here," Conan said of NBC.
OK! VIDEO: BARACK OBAMA GETS COMEDIC WITH JAY LENO
What would Conan have done if the tables were turned and he was in Jay's position?
"Done something else, go someplace else," he said. "I mean, that's just me."
Ultimately, Conan decided to leave NBC.
"This relationship is going to be toxic and maybe we just need to go our separate ways," he explained.
OK! VIDEO: JIM CARREY GETS DOWN WITH CONAN
But the separation was not easy and Conan's wife, Liza, noticed his pain.
"This was really really hard for him," she said. "It was watching someone's heart get broken."
But she "absolutely" supported his decision to leave.
"It felt like they never really gave him the job. They said, 'We're going to give you this job in five years,' and they kept him with the company and he said, 'I'm in it for the long haul,' and I felt like they lost their nerve to really make a change."
Moving forward, Conan has been given support from his wife and his "Team Coco" fans to pursue a comedy tour now and then hosting a new talk show on TBS.