NEWS
Conrad Murray Manslaughter Verdict: Doctor Found Guilty in Death of Michael Jackson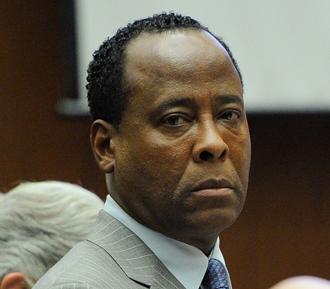 Dr. Conrad Murray was found guilty at the L.A. Airport Courthouse on Monday of the involuntary manslaughter of Michael Jackson.
A jury of seven men and five women found Murray guilty after sitting through 22 days of testimony with close to 50 witnesses.
OK! NEWS: JURY SELECTION BEGINS FOR DR. CONRAD MURRAY TRIAL
Michael's family was present in court for the verdict. Parents Joe and Katherine Jackson were joined by children LaToya and Randy Jackson. Michael's kids were not present. When the verdict was read, shrieks were heard in the courthouse.
Article continues below advertisement
As for sentencing, that will happen on Tuesday, Nov. 29, at 8:30 a.m. The judge ruled that Murray should be remanded without bail until then.
The defense tried to explain that Murray had family obligations to take care of and was not a flight risk, but the judge ruled that based on the severity of the crime, which is viewed as a homicide, Murray should remain in jail until the sentencing.
VIDEO: LATOYA JACKSON CALLS DR. CONRAD MURRAY THE "FALL GUY" IN MICHAEL JACKSON'S DEATH
LaToya turned to Twitter to share her feelings. "Verdict is FINALLY IN!!! I'm on my way! I'm shaking uncontrollably!" she Tweeted, adding, "Michael's spirit will be with us in the court room and he will make sure the right verdict is made."
Murray was Michael's personal physician at the time of his tragic death at the age of 50 in June 2009. He was charged with involuntary manslaughter for giving Michael lethal doses of the strong anesthetic propofal to help him sleep.