NEWS
Corey Feldman on Corey Haim: He'll Always Be My Brother & Best Friend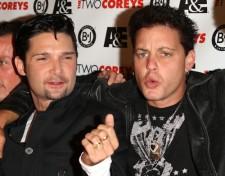 Corey Feldman has broken his silence regarding the death of his co-star and best friend, Corey Haim, who passed away this morning. Feldman, who acted alongside Haim in movies, from License to Drive to The Lost Boys, wrote a blog post this afternoon expressing his feelings on the loss of his "brother, family, best friend."
OK! GALLERY: REMEMBERING COREY HAIM — THE TWO COREYS THROUGHOUT THE YEARS
Article continues below advertisement
"I was awakened at 8:30 this morning by my brother and sister knocking on my bedroom door. They informed me of the loss of my brother Corey Haim. My eyes weren't even open all the way when the tears started streaming down my face. I am so sorry for Corey, his mother Judy, his family, my family, all of our fans, and, of course, my son, whom I will have to find a way to explain this to when he gets home from school. This is a tragic loss of a wonderful, beautiful, tormented soul, who will always be my brother, family and best friend. We must all take this as a lesson in how we treat the people we share this world with while they are still here to make a difference. Please respect our families as we struggle and grieve through this difficult time. I hope the art Corey has left behind will be remembered as the passion of that for which he truly lived. ~ Corey"
OK! GALLERY: A LOOK BACK AT COREY HAIM'S LIFE IN PHOTOS
The two '80s stars reconnected on the small screen in their 2007-2008 A&E reality show, titled The Two Coreys, where they were often at odds over Haim's behavior, which included his reported problems with drugs.