NEWS
Hot Mama! Jessie James Decker Posts Bombshell Nude — See The Pic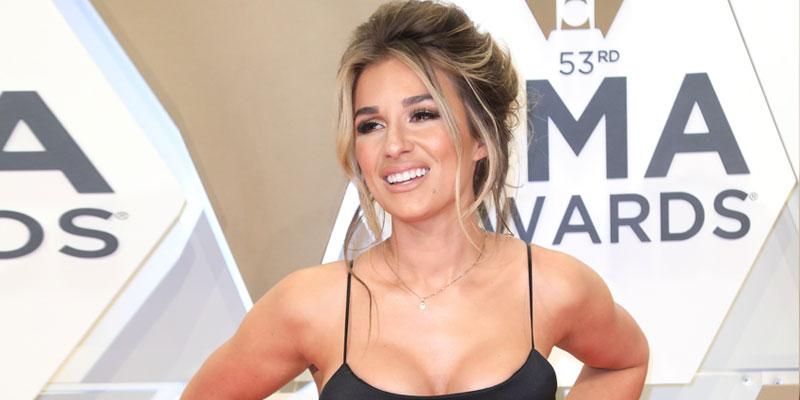 Country singer and songwriter Jessie James Decker posted a bombshell naked picture of herself reading her new cookbook, Just Feed Me, on Instagram on Monday, September 14.
The mother of three to Vivianne Rose, 6, Eric II, 5, and Forrest, 2 — whom she shares with former NFL player Eric Decker — captioned the risqué photo: "'Everything you see I owe to spaghetti' - Sophia Loren ( ps tons of pasta recipes, it might be my favorite chapter) link in bio to Pre-order @justfeedme."
Article continues below advertisement
Her husband — who starred on the E! reality show Eric & Jessie: Game On with Jessie, which premiered in 2013 and returned in 2017 for season 3 — seemed very pleased with the post, commenting with three smiley face tongue out emojis.
Fans immediately praised the gorgeous Italian, responding with fire emojis. One fan wrote, "Need the book & the body," as another chimed: "Your body makes ZERO sense for having 3 babies and loving to cook!!!!!!!!!!!!" Another user jokingly responded, "How are you just gonna bless our feed like that with no warning."
NASTY FEUD! ERIC DECKER'S FAMILY ACCUSES STAR OF SHUNNING LOVED ONES
Some viewers were not as pleased with the sexy snap commenting, "This is too much. Save it for your husband," and another wrote, "Really trying to sell that book I see."
The 32-year-old founder and CEO of Kittenish is promoting her new cookbook in her nude post, which is set to release on September 22. The book shares the New York Times bestselling author's favorite recipes, including many pasta recipes — noted in her Instagram caption.
Article continues below advertisement
This is not the first time the 'Lights Down Low' singer showed off her banging body on Instagram. The brunette beauty shared another post of her stripped-down bod rocking a Kittenish turquoise bikini and opened up about her workout and diet tips. In the caption, the TV personality explained she is "really excited" to share the cookbook with her fans.
"I'm really excited to share that in my cookbook @justfeedme I have an ENTIRE chapter on what I eat in a day and recipes to share with you on what it is I eat on a daily basis to maintain," she wrote. "It's high protein low carbs and these recipes are absolutely delicious that you won't even feel like you're watching your fitness!!! I'm really proud of this chapter in particular because it's something you all been asking me to share for a long time and I finally got to put it all in one spot!"