NEWS
Courteney Cox Says Future Unknown With David Arquette: "I Have Strongs Feelings for Him"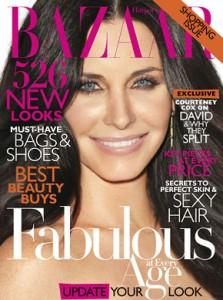 Courteney Cox is opening up on the separation from her husband David Arquette in the new issue of Harper's Bazaar. The Cougar Town star talks about her current relationship state and whether or not she'd be ready to date.
OK! NEWS: DAVID ARQUETTE ON MARRIAGE TO COURTENEY COX — "I'D LOVE FOR IT TO WORK OUT"
"I think every relationship has a point where you stop and reevaluate. Are you happy? Have you grown together or apart?" Courteney explains to Harper's Bazaar. "What do you share interests in? I think that's a normal thing to do, but it's so much harder when it's done publicly."
Article continues below advertisement
So what caused her split from David after 11 years of marriage?
"I just had a moment of looking at our relationship, and there wasn't anything in particular, but it brought up a lot of stuff," she says and then jokes, "Maybe on second thought, don't reevaluate. Just keep going. Don't rock the boat. Repression is fantastic."
But Courteney won't say a bad word about David, even after his interview with Howard Stern.
"If you didn't hear the Howard Stern interviews and you just read quotes, I'm sure it seemed out of context, crazy," she says. "I'm not saying there wasn't some crazy behavior, but if you know who David is, you know what his intentions are, how honest he is, and how big his heart is."
OK! NEWS: DAVID ARQUETTE ADMITS TO JASMINE WALTZ HOOK-UP
"You can't really get mad at David because he's not a malicious person," she adds. "He was dealing with things the best way he could. And don't get me wrong, he was on a show for entertainment. David is smart, and David is also a showman. He knew what he was doing."
Article continues below advertisement
"I don't know what's going to happen, but I don't think he'll be doing more Howard Stern any time soon," Courteney explains. "He's not out to harm. But I'm his biggest protector. I can't help it."
And that's true to her view on David's involvement with a cocktail waitress.
"He absolutely did nothing that wasn't in the boundaries of what we set for our separation, so there's nothing to judge," she says. "I may not have known about it, but that's the only difference."
OK! NEWS: COURTENEY COX & DAVID ARQUETTE — "NOT LIKE WE'RE GETTING DIVORCED"
And Courteney is taking some of the responsibility for the struggles in their marriage.
"The thing is, when you get older, it's more about compatibility than it is about love," she explains. "I think it's more about needing just a kind of peace and stillness. I'm kind of all over the place, and I need grounding. I want to be calm. I want to change a lot. I want to live not outside but inside. It's nothing with David; it's just what I'm searching for."
"We loved each other so much, and if anything I feel like we've been extremely successful at marriage. If it doesn't work out, I will have huge waves of pain about failing in that department," she says. "But right now I don't have that because I don't know what the future holds and I guess because I have strong feelings for him."
Which also means Courteney won't be dating anyone else any time soon.
"I have no desire right now," Courteney shares. "I'm not saying never. It just seems weird. I don't even know how that would happen or how you meet people. I really don't like to go out. I'm not great at small talk. I like to go to dinner with people. I don't like to go to parties. There's a sign on my forehead: EXITING SOCIAL LIFE, ENTERING INTO ISOLATION."