NEWS
David Arquette on Marriage to Courteney Cox: "I'd Love For It to Work Out"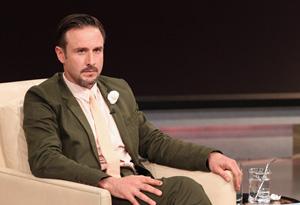 Article continues below advertisement
He knew his marriage to Courteney was in trouble when she told him on June 12 last year, " 'I don't want to be your mother anymore.' "
And she then started talking to him about separating.
"I wasn't connected to what was really going on at all. I was making really poor decisions," David explained of his life at that time. "I didn't deal with it in a mature or honorable way at all."
Now, David lives alone in his L.A. home he and Courteney own, but it is the first time in 30 years he has been sober.
"The best thing for me in sobriety is being authentic," David says. "Starting to see things as they are and being able to then distance myself and try to go deeper within who I am."
Still, he says "I love Courteney. We're really great parents together, and we're really supportive and we don't argue over that."
He doesn't know what will happen with his marriage in the future, "But I'd love for it to work out."