NEWS
Courtney Alexis Stodden, 16, Talks Losing Virginity to Husband Doug Hutchison, 51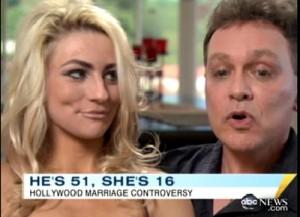 Earlier this summer, actor Doug Hutchison, 51, stirred up some controversy when he announced he married Courtney Alexis Stodden, a 16-year-old aspiring country singer. The highly talked about couple spoke out for the first time together in an interview with Good Morning America today, and seem proud of their 35-year age difference.
"The way we met was really beautiful," Courtney told GMA's Lara Spencer in an interview at the couple's home. "My mother was managing my career. Her friend told my mother that Hutchison was holding some workshops for acting. And I was very interested in acting. So what better way than to connect that way?"
Article continues below advertisement
Doug maintains that he thought Courtney was in her 20s when they took their relationship to a romantic level, adding that "she was being very flirtatious."
"Well, come on, he's so handsome," the blonde teen said.
When Doug found out Courtney was 16, his "world turned upside down," but he had to listen to his heart.
"It didn't make me want to walk away," The Green Mile actor said, "but it definitely was a struggle inside my heart… because I had already started falling for her."
But luckily for the lovebirds, Courtney's parents gave their consent for the couple's romance and nuptials!
In May, the couple wed in a Las Vegas chapel.
"I was a virgin," said Courtney of their wedding night. "I knew that if I kept that, I would really be blessed with a beautiful gift. And God did. He blessed me with my soul mate. So I'm really thankful for that."
Article continues below advertisement
She added: "I'm an old soul. And Doug can back me up on this."
As far as all those haters out there who think Courtney — who looks very mature for her age — has had plastic surgery, think again.
"It's real," she said of her mature body.
"Courtney's plastic surgeon was God," Doug quipped.
"Thank you, Jesus," Courtney added joking about the rumors.
GMA reportedly spoke with two plastic surgeons who verified her lack of surgery.
Catch the clip, via ABC, below!