NEWS
COVER STORY: Jessica Simpson's Baby Crisis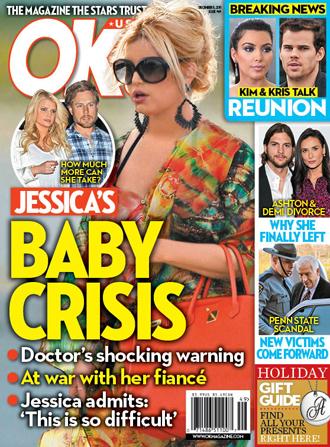 For Jessica Simpson, the news of her pregnancy was a lifelong dream come true, a burst of joy after years of highly publicized romantic disappointments, weight battles and other dramas. OK! has the scoop on Jessica's baby crisis in this week's all new issue!
OK! NEWS: JESSICA SIMPSON — "MY BELLY IS OFFICIALLY BIGGER THAN MY BOOBS"
But as Jessica, 31, grows bigger with every day, so are emotional and physical crises that are ruining what should be an ecstatic time — strife over her now-delayed wedding to fiancé Eric Johnson, and medical problems that could threaten her health — and her child.
Article continues below advertisement
"She's said it's been a difficult pregnancy — she's been dizzy and nauseous," a friend of the singer-entrepreneur tells OK!. Adds another insider: "She was totally unprepared for how hard it would be on her body."
OK! NEWS: JESSICA SIMPSON DOESN'T WANT TO BE A "HORMONAL BRIDEZILLA"
FOR MORE ON JESSICA'S BABY CRISIS, PICK UP THIS WEEK'S OK! — ON SALE NOW!
ALSO IN THE NEW ISSUE:
• Britney Spears and Jason Trawick are engaged! But does she need her dad's permission?
• Baby crisis for Jessica Simpson. With the doctor's shocking warning and fighting with her fiancé, Jess admits "This is so difficult."
• Kim Kardashian and Kris Humphries talk reunion! Kris still has hope that Kim will reconsider the divorce.
• Demi Moore and Ashton Kutcher are set to divorce. What finally made Demi leave.
• Will Robert Pattinson and Kristen Stewart's love survive Twilight? Friends fear the film's finale may spell "the end" for the fairy-tale couple.
• They Didn't Get the Part! The roles that got away for celebs like Jessica Biel and Scarlett Johansson.
• From Renee Zellweger and Kenny Chesney to Drew Barrymore and Tom Green, these marriages were over before they'd barely begun!
• Even more victims come forward in the Penn State scandal.