NEWS
Cy Waits Used a Gun to Subdue Paris Hilton's House Intruder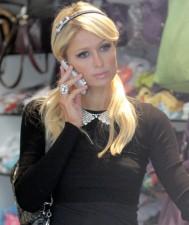 On Tuesday, Nathan Parada attempted to break into Paris Hilton's home equipped with knives. New reports reveal that the socialite's boyfriend Cy Waits pulled a gun on the intruder to stop him until the police arrived.
When Paris and Cy heard banging noises on the windows at 6:30 AM, he grabbed his gun to check out what was going on, law enforcement sources confirm to TMZ.
Article continues below advertisement
After finding Nathan outside, Cy drew his weapon and forced the intruder to lay on his stomach until police came to the scene.
PARIS HILTON WAKES UP TO A 'GUY HOLDING TWO 2 BIG KNIVES'
"Thank God Cy was there, he saved my life," sources at TMZ say Paris told friends that she was grateful for Cy.
Nathan was arrested on charges of felony burglary after the incident.