NEWS
'Dance Moms' Finale Is Tonight! Watch the Most Insane Moments from This Season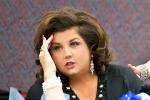 Dance Moms is a show best watched with friends. You just cannot watch it without having someone's arm to grab to say, Wait, did that really just happen?
OK! News: Is Dance Moms star Abby Lee Miller dating... a gay man?
With that in mind, let's gear up for tonight's finale by collectively (and virtually) clutching each other while we watch these completely nuts scenes from the third season, which ends tonight. This show is such a success because of the utter conviction, the genuine emotions, very near the surface in every scene.
Article continues below advertisement
OK! Exclusive: We talked to an ex-student from the Abby Lee Miller dance school!
A few of my favorites:
The girls performs a Rosa Parks number. Of course, it's amazing and moving, but there's something about the concept that I just can't quite get past.
Abby Lee Miller pulls Nia's duet after her mother Holly comps some 'tude, which Holly believes is an abuse of power. "You are a monstrosity of evil," she finally screams at Abby. Even with the benefit of hindsight, Holly is clear: "I meant it. I still do. I stand behind that."
Abby's beloved dog dies, and she considers having it stuffed.
Maddie, the clear star of the group, isn't doing so hot. She starts crying when confronting her teacher, and Abby cries out of pure frustration and disappointment in her. To say this is going to mess Maddie up is a bit of an understatement.
Get ready for tonight's finale by watching this crazy preview!
Are you a fan of Dance Moms? What do you think was the craziest moment of the season? Tell us in the comments below or tweet us @OKMagazine.