NEWS
'Dancing With the Stars' Champ J.R. Martinez Gave Gavin DeGraw Advice for Season Premiere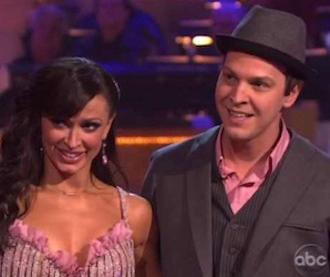 All of the glitz and glam are back, and so are the cha-cha and fox-trot, too! Last night, during the season 14 premiere of Dancing With the Stars, stars shone brightly and there's no doubt there will be a sizzling season ahead!
OK! NEWS: CARRIE ANN INABA SAYS DANCING WITH THE STARS MADE HER FEEL "EMPTY"
Reporters caught up with Gavin DeGraw and Karina Smirnoff after their first nerve-wracking performance. Gavin said, "I felt like my feet were, like, two feet off the floor the whole time. It was really surreal for me because of the nerves."
Article continues below advertisement
So, how will he combat the nerves next time around? "Practice more," he explained. "Our schedule has been pretty tough, with pretty girls such as Karina Smirnoff."
OK! EXCLUSIVE: CHERYL BURKE ON PARTNER WILLIAM LEVY'S TRAINING FOR THE PREMIERE!
Karina chimed in, "Then we going to stop there, just at Karina Smirnoff."
Considering Karina is the reigning champ, Gavin mentioned he feels "really lucky!" Then again, he added, "Because she is the reigning champ, I feel a little bit more pressure, and then, backstage, I met J.R. Martinez, and I still feel like he has got the torch on his shoulder also, and I am afraid to put it out!"
Reigning champ J.R. gave the singer some advice. "He said, 'I'll be waiting here. Have a good show. Don't let me down.'"
Admitting there was a "missing link for me" in the entertainment business, Gavin said he wants to learn how to move his body a little bit. Although he won't exactly break out into a mambo, he will "be very selective" about when he dances during his concerts.
Reporting by Gena Oppenheim