NEWS
'Dancing With the Stars' Sizzles with Three Perfect Scores!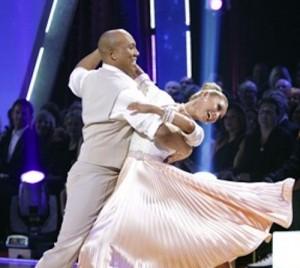 Last night simply sizzled with the most exciting episode of Dancing With the Stars this entire season! There were tears, laughter, injuries, illness and oh yes, three perfect scores all wrapped into one semi-final!
OK! EXCLUSIVE: KYM JOHNSON INJURED DURING DWTS REHEARSAL
First things first: Hines Ward received not one but two perfect scores! Chelsea Kane also snagged a perfect score and 15 points for the "Winner Takes All Cha Cha Cha" which has never been done before on the show! The first and fourth place contestants competed, then the second and third and then the winner of each division competed. Considering they only had approximately three to five minutes to learn each dance, it wasn't too shabby!
Article continues below advertisement
Chelsea told reporters, "I am stoked! Three dances. Two of those were totally foreign to me. Some of the other dances you can incorporate things you've already learned, but the Rumba and Argentine Tango are beasts of their own."
OK! VIDEO: RALPH MACCHIO RISES ABOVE INJURIES ON DANCING WITH THE STARS
Plus, she says going into week nine you no longer have "get out of jail free cards." Early on the judges may let things slide but now while the competition is hot and heavy, they scrutinize if your arms aren't straight or legs are a little bent. "You can't suck now; you have to be great all the time....It's just…it's totally worth it and you have to put in the hours; the show is so do or die."
OK! EXCLUSIVE: KYM JOHNSON'S DIARY — "I'M SO NERVOUS ABOUT TONIGHT"
It's also do or die for other contestants like the injured Kym Johnson. She told OK! she really didn't mean to say that she didn't want to dance tonight. "I didn't know if I was going to. The doctors cleared me this morning to dance. It was a bit touch and go. I just felt so bad for Hines, you know."
Now that she's out of the neck brace from her C7 sprain, she also told OK! there's a bit more movement now. "And I've obviously modified the routines. There was a lot more tricks in it, but Hines is such a good dancer so we just relied on that. And I should've done it all along because it got us 10's."
Article continues below advertisement
OK! EXCLUSIVE: BEHIND THE SCENES AT DANCING WITH THE STARS, WEEK 8
For the duo with amazing chemistry, Hines told reporters he was sick over Kym's injury. "Yeah, I was sick. You never wanna see your partner…we've been together for 10 weeks and that Friday was the worst Friday ever, to see your partner carted off and just being in the hospital with her and going over the MRIs. You start contemplating, what could I have done? Could I have prevented the fall? You start second guessing yourself and then you put things in perspective. It was a trying week. To be honest with you, I didn't even think about dancing. I was more concerned with her safety than anything."
Since tonight is an elimination episode, who do you think will be sent home?
Reporting by Amanda Champagne