NEWS
Kym Johnson's DWTS Diary: I'm So Nervous About Tonight!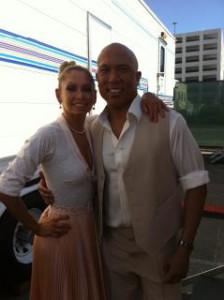 Hi, everyone, and welcome to my OK! blog! Every week, I'll be sharing with you all the behind the scenes stories as I train NFL wide receiver Hines Ward for this season's Dancing With the Stars, trying to make the Pittsburgh Steelers pro look as cool in the ballroom as he does on the football field for season 12!
I was so happy with our performances last night, but it's Tuesday now and I'm really nervous! It's getting so close now and anyone could go home tonight. I just hope it's not us! If we make it through, we're just going to have to really step it up and keep on top of the leaderboard and hopefully the audience will like what we're doing and vote for us.
Article continues below advertisement
OK! EXCLUSIVE: BEHIND THE SCENES AT DANCING WITH THE STARS WEEK 8
I think it's going to come down to the audience votes. That was good that people were booing at our score on the Jive last night, that was good to hear because it could be a good sign that they're with us. I'm just really nervous — I hate Tuesdays! Fingers crossed we can make it through another week! We're still second with the judges; scores, it's just very close, a couple points dividing all of us. It really could be anyone that goes home tonight.
The Jive is a really difficult dance, but Hines did it so well. His feet were going 100 miles an hour! He did an amazing job. It was actually really fun having to be so spontaneous and just try to work it out on the spot. It was nerve-wracking but I had more fun than I thought I would. To prepare, when I was choreographing the dance I just choreographed blocks of eight in counts. I knew phrasing-wise it would probably fit once we got the music. We had the routine, we just had to make a few little changes to make it fit the music but it wasn't too bad.
Article continues below advertisement
OK! EXCLUSIVE: BEHIND THE SCENES AT DANCING WITH THE STARS BALLROOM GREATS NIGHT
Last week after Hines' mistaken arrest, he did nothing wrong, and so that was fine, we were just back at rehearsals at 10 a.m. the next morning like nothing happened. Everything's fine, we just went about business as normal!
If we make it through tonight, next week will be the most challenging week, because we'll have two new dances, plus the Cha Cha, it's like a winner's circle Cha Cha thing, so it's going to be a very difficult week for whoever gets through. Fingers crossed Hines and I can be there, hopefully people voted for us.
Hines, like he does with football, he watches other people's dances and he watches our dances back as well. We film during rehearsals too so he watches it back to make sure he's doing it right. It's the way he works football into our dancing. I always film rehearsals with all my partners and make them watch it back, because I can tell them until I'm blue in the face — but if you see it, you can visualize what I'm telling them, so it helps a lot more. So I'll always show them rehearsals and explain what's missing, and how the arm isn't right there or the feet. I do that will all my partners, but Hines is definitely more analytical than I've had before!
Article continues below advertisement
KYM JOHNSON'S DWTS DIARY: FINALLY SCORING A 10!
I'm so excited about Adele performing tonight, I love her and think she's incredible. Also Delta Goodrem is performing tonight, she's an Australian artist, so I'm really excited to see her. I'm more excited about Delta because she's a friend and she's hugely famous in Australia and England. I'm really happy that Americans can get to see how great Delta is! Some people in America have heard of her, she's such a big talent and I'm really happy for her that she's going to perform tonight. I'll make sure to run around and get photos with everyone!