NEWS
'D.C. Housewife' Michaele Salahi Says She Suffers From Multiple Sclerosis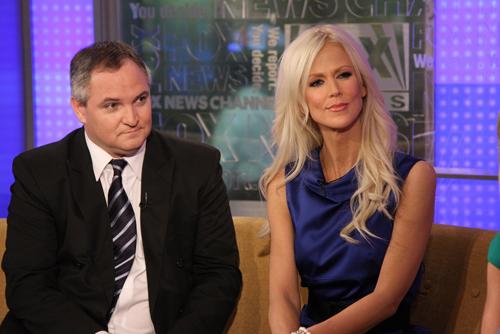 The Real Housewive's of D.C.'s Michaele Salahi sat down on Fox & Friends this morning to make an announcement. She doesn't suffer from anorexia, but she does suffer from Multiple Sclerosis.
OK! GALLERY: THE NEW HOUSEWIVES ARE D.C. CHIC
Rumors were spreading between housewives on the Bravo show that Michaele was anorexic, but with the support of her husband, Tareq Sahali, she's ready to speak out on the issue.
Article continues below advertisement
"You know, I am — I don't deal with anorexic, I'm not an anorexic and I've never had an eating disorder," Michaele told Fox & Friends on Wednesday while tearing up. "But one thing I have kept a secret is for 17..."
"This is very emotional for her. Can I jump in?" Tareq interrupted. "For 17 years, Michaele has suffered from Multiple Sclerosis and when I watched the show and I see this story line of them the other housewives picking on her ... frankly, you know, there's always got to be somebody in those casts that they pick on and it happens to be Michaele, with claims she's anorexic."
OK! NEWS: MICHAELE SALAHI RISES ABOVE WEIGHT CRITICISM
"We have to have an intervention. It keeps the story line flowing but, unfortunately, it's not true," Tareq explained. "Just like it wasn't true that they were the gate crashers. She has Multiple Sclerosis."
"I can talk now. Sorry, Gretchen, I had to get that," Michaele said "First time I've said it publicly. My own family, my cousins, a lot of the people dearest to me, my best friend just found out so it's something that I kept personal."
Article continues below advertisement
And while they're on a role clearing up rumors, Michaele and Tareq addressed the White House party crashing claims.
"Well, we didn't crash. And we've been saying that privately and publicly that we never party crashed the white house. And, you know, we couldn't in the beginning come out and just say that we didn't party crash because there were contracts that we had to deal with and then, of course, attorneys got involved," Michaele explained. "But — and again, here we are today saying we didn't do it. Diane Diamond did her own investigation and making sure everything we were saying was in fact, true and did her own research and now we're here to set the record straight."
"In fact, Michaele never used the word hit," Tareq added. "It was probably the way Whoopi behaved backstage when she was attacking Michaele with the foul language, that doesn't help her with her health condition."