NEWS
Whoopi Goldberg: "I Make No Apologies" For "Choice Words" With 'Real Housewives' Star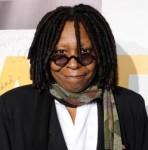 Whoopi Goldberg addressed her confrontation with The Real Housewives of DC cast member, Michaele Salahi, on Thursday's The View, refusing to apologize for her behavior either on-camera or backstage.
As soon as the hosts entered at start of the show Whoopi immediately introduced a clip of her interaction with Michaele, who is alleged to have crashed a White House party, reports Radar Online.
Article continues below advertisement
The clip showed Michaele on the sofa with the other Real Housewives being interviewed by Sherri Shepherd and Joy Behar, when Whoopi — who wasn't involved in the interview — walked on the set from backstage, touching Michaele from behind and startling her.
Whoopi then explained that she was standing backstage listening to the interview, and that sometimes she'll come on stage even if she is not a part of the segment just to add her two cents.
OK! NEWS: WHOOPI GOLDBERG DENIES HITTING ALLEGED WHITE HOUSE CRASHER
In this case, she was waiting for the conversation to get back to what happened at the White House and she was moved to come on stage and tell them to move on.
Whoopi then showed a clip of what happened from another camera angle where you can see and hear more clearly what Whoopi did and said. The clip showed Whoopi walking onto set, touching Michaele's arm and saying, "can you get back to the White House, please".
Article continues below advertisement
OK! NEWS: DANIELLE STAUB, KELLY BENSIMON ADVISE HOUSEWIVES OF DC
On Thursday, Whoopi explained how after the interview she heard that Michaele had accused Whoopi of hitting her. Whoopi then said she had a few "choice words" for Salahi.
As the conversation got more heated, Michaele's husband got in on the argument. "He got in my face", Whoopi said, "and got out his blackberry and started taking pictures".
Article continues below advertisement
While Elisabeth read the statement Whoopi coughed, seemingly sarcastically. As the camera came back to Whoopi she simply said: "Let's move on," and dropped the subject for good.
OK! NEWS: THERESA GIUDICE TANS AWAY HER FINANCIAL WOES
Lisa Bloom told Radar Online that "When the segment ended Michaele burst into tears backstage and several people came up to talk to her and she found an office," Bloom said.
"Whoopi berated her and dropped the f-bomb many times," Bloom said. "Michaele was devastated."
OK! NEWS: BARACK OBAMA TELLS THE VIEW: SASHA & MALIA ARE "A GREAT AGE"
Bloom said Michaele thinks she has been treated badly by the show. "She is not asking for an apology, but Bloom said, "I think they deserve an apology. It's outrageous and I'm surprised this would happen."