NEWS
Derek Hough Admits His Dancing with the Stars Future is Uncertain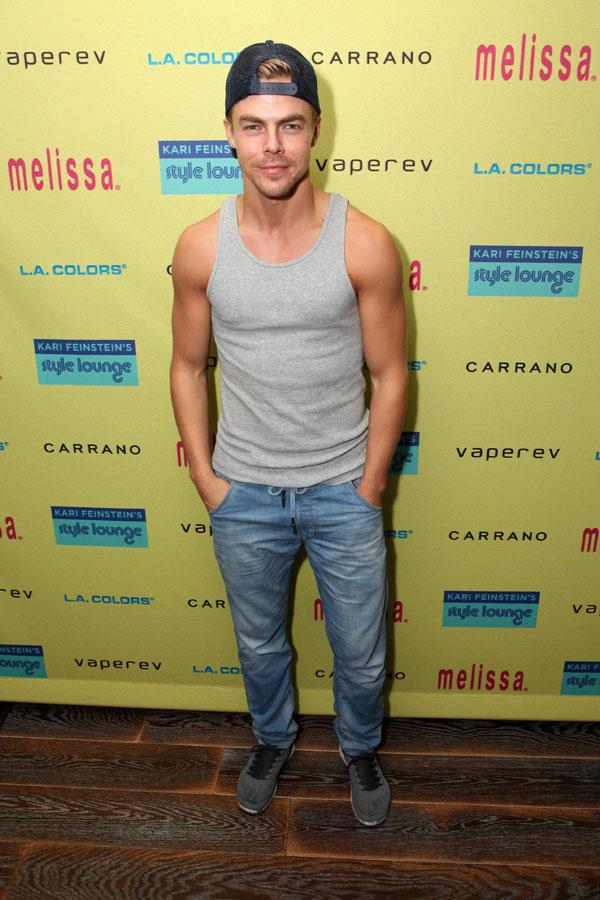 Derek Hough is a five-time Dancing with the Stars winner and despite only placing second with celeb partner Amy Purdy on Tuesday night's season 18 finale, the pro admits this season was one of his most magical.
OK! News: Maks Chmerkovskiy and Meryl Davis React to Their Dancing with the Stars Win
"I'm like, floating right now," he said after the show. "What an amazing ending to a beautiful, beautiful season. Couldn't be more proud or more happy to see Maks and Meryl hold that trophy up. It's been a long time coming. It was actually kind of funny. He came up to me afterwards and said, 'Dude, I don't know how you did this five times.' That was a nice comment to say. I value Amy. She really transcended any sort of trophy you could possibly get as far as what she represented in this entire competition."
Article continues below advertisement
Derek credits the show's producers for allowing Amy, a Paralympic medal-winning snowboarder who lost both legs below her knees to bacterial meningitis, the opportunity to try the competition.
OK! News: The Story Behind James Maslow and Peta Murgatroyd's Dancing with the Stars Smooch
"I feel so grateful and blessed that I was able to be a part of something like this and part of a show that was willing to take that chance," says Derek. "To be able to showcase, I hate to sound so cliche', but there are people out there that don't know that they have an opportunity or a chance to do something. There was a little girl over here who was dancing on the floor and she had two prosthetics and this little girl probably looked up to her and said, 'Yeah, I can do that.' That hasn't been that on national television. I can't be more proud of this woman."
MORE ON:
Dancing With the Stars
Still, the performer isn't quite sure he's up for another spin in the ballroom, nothing there's a chance he won't be back next season.
OK! News: Rachel Bilson is Pregnant
"Honestly, before this season, I wasn't sure," admits Derek. "I feel like I've kind of done it. I've done a lot on this show. When they told me about Amy, I 100% signed up right away. I knew that this was something that was more special than a competition dance show and I really feel like we've accomplished everything and more."
What did you think of Tuesday's Dancing with the Stars finale? Tell us in the comments or tweet @OKMagazine.