NEWS
Derek Hough's 'DWTS' Blog: What a Way to Start!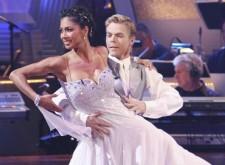 Dancing With the Stars pro Derek Hough has teamed up with OK! to update you every week as he attempts to turn his partner Nicole Scherzinger into a ballroom champion!
Hi, everyone! Welcome to my OK! blog in which I give you the low down on my Dancing With the Stars experience this season with my fabulous celebrity partner, Nicole Scherzinger of The Pussycat Dolls.
As you all know, our first dance got the highest score of the night. I couldn't be happier with how our Viennese waltz went. The first show is always the scariest and provides the biggest learning curve and until you get that out of the way, you don't really know what to expect.
Article continues below advertisement
Before we hit the dance floor, I told Nicole to center herself and just have fun with it and relax. I reminded her to fill the whole ballroom up when she danced. She was very nervous. I was surprised because I had thought to myself, she's had performing experience in front of thousands of people so it should be no biggie for her. But it's singing where she feels completely at home. Ballroom dancing in a long dress? Not so much. She was completely out of her element and saying she was terrified is an understatement. It was endearing to see that vulnerability from her, though.
OK! NEWS: PUSSYCAT DOLL NICOLE SCHERZINGER WALTZES TO FIRST WIN
During the dance, I could feel Nicole's nervous energy. The performance felt a little careful. But I have to admit it was coming from me as well. Believe it or not, I still get incredible butterflies before every performance. People are watching and expecting something from you. It's tough. But we watched it back on You Tube later and I was very proud of the dance. It always looks better than it feels at the time.
Article continues below advertisement
For the Viennese waltz, I tried to keep the choreography clean and easy on the eye. I didn't want to come out and do any crazy tricks. We were prepared enough to where if anything went wrong, I felt we could cover it up and just keep going. We got great comments from the judges and even though Len Goodman wasn't enthusiastic like Carrie Ann Inaba and Bruno Tonioli, he gave us constructive criticism.
OK! NEWS: BROOK BURKE CONFIRMED AS DWTS CO-HOST
This season is definitely a competition; I feel everyone is bringing something to the table. Evan Lysacek was behind us in second place, and he's got the gold medal! I was shocked how Pamela Anderson owned that floor.
After the show, I had a sushi dinner (my favorite!) with my sisters, Julianne and Marabeth, and later celebrated with the rest of the cast.
Article continues below advertisement
OK! NEWS: ERIN ANDREWS ON DWTS — THERE IS BLOOD ON THE DANCE FLOOR
I felt it was an exciting day not just for Nicole and me, but for the whole show. There was a buzz in the air that felt new and fresh and exciting that I think last season was lacking. Everything — from the new set to the music to the graphics to the amazing cast — gave me a thrill. It made the experience of dancing so much more fun.
On Monday, we'll be dancing the jive. It's going to be a non-stop, high-energy dance and I've been sweating a lot in rehearsals. I don't think I've physically danced this hard the entire time I've been on DWTS. We won't be dancing to a Pussycat Dolls song, but we'll be play on Nicole's background in the dance. This jive won't really be telling a story; it will be more competition style—go, go, go, non-stop dancing.
Well, I've got to go rehearse now, so I'll talk to you guys after our second performance next week. Thanks for reading and we appreciate all your votes!
Derek