NEWS
Pussycat Doll Nicole Scherzinger Waltzes to First 'DWTS' Win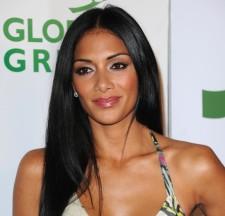 Nicole Scherzinger of the Pussycat Dolls proved she's the front runner on the season premiere of Dancing with the Stars on Monday night.
The singer's performance of the Viennese waltz with partner Derek Hough earned a score of 25 out of 30 from the judges on the hit ABC reality show, back for its tenth season.
Judges Carrie Ann Inaba and Bruno Tonioli both gave her a score of nine, which is huge for a first dance. "The bar has been set," Carrie Ann gushed. However, judge Len Goodman begged to differ, giving Nicole just seven and saying she "lacked musicality."
Article continues below advertisement
OK! NEWS: SHANNEN DOHERTY DISHES ON DANCING WITH THE STARS NERVES
Although Nicole impressed, gold medal winning figure skater Evan Lysacek glided to a close second, grabbing 23 points for his graceful Viennese waltz with partner Anna Trebunskaya.
He told OK! after the show, "we thought it went well. We had a very ambitious routine, so I think some of the stuff we nailed and some of the stuff we obviously could have done better but we have great criticism from the judges and now we can go back to the drawing board."
Although he just won the gold medal in Vancouver, Evan admitted of beginning his ballroom dance, "I was anxious and I was trying to just not go into autopilot which is what I would usually do when I get butterflies. I had to be really present."
OK! NEWS: DANCING WITH THE STARS — SECRETS OF THE CELEBS
Meanwhile, ESPN reporter Erin Andrews cha cha-ed to 21 points with longtime DWTS pro Maksim Chmerkovskiy. Erin said backstage, "we were sweating a lot! I'm glad it's over with. I want to build off of it. There's a lot of things I'm ready to fix but I'm excited because it could have gone so much worse."
Article continues below advertisement
Pamela Anderson got a surprising 21 for her cha cha with dance pro Damian Whitewood, making his DWTS debut. Although Carrie Ann admitted her wild, hair tossing performance was "a little much" and Len called it "a mess," she scored higher than many of her competitors. She skipped talking to most of the reporters backstage, saying she wanted to rush home to her two sons.
The Bachelor hunk Jake Pavelka used a rose as a prop in his performance of the Viennese waltz, and it worked for him, as the pilot with no dance experience got a strong 20.
OK! EXCLUSIVE: JAKE PAVELKA GETS READY FOR HIS DANCING DEBUT
Jake said of his dance with partner Chelsie Hightower, "tonight, she did an amazing job but I felt like I did a pretty good job. The greatest thing about it is we had three weeks to prepare and I came out and danced my heart out and it's up from here."
The judging didn't get him down: "You don't believe the great; you don't believe the bad. You just stay centered," he said. While Chelsie told OK! "I'm really proud of him."
Article continues below advertisement
Jake's fiancée Vienna Girardi cheered him on from the audience and Gia Allemand and Ed Swiderski and Jillian Harris also were there to support the former Bachelor. Jake was happy his "Bachelor family" showed their love.
OK! NEWS: KATE GOSSELIN CATCHES A TAYLOR SWIFT CONCERT
Football player turned cha cha dancer Chad Ochocinco and pro Cheryl Burke shimmied to a score of 18. Chad told OK! "It was good. I had fun. I loved it. I was able to get through my entire routine, no mistakes. Some technique things I have to work on — that's about it."
Also at 18 were Beverly Hills 90210 star Shannen Doherty and her partner Mark Ballas. Shannen was emotional because her father, who recently suffered from a stroke, sat in the audience to watch her perform the Viennese waltz. While judge Bruno said "it didn't flow," Len told Shannen she portrayed "ease and elegance."
Reno 911! and The Insider star Niecy Nash and Louis Van Amstel also walked away with an 18, for their cha cha. Niecy was so glad to have finished the dance, she cried.
Article continues below advertisement
OK! NEWS: KARINA SMIRNOFF ON DWTS: I DIDN'T LEAVE COMPLETELY
The comedienne, who doesn't want to lose her curves by doing the show, told OK!, "I thought it went fantastic. We stayed in our lane, focused on what we had to do and my partner helped me dance for every woman who's not a size two! We were not thinking about the judges."
Kate Gosselin's hotly anticipated performance of the Viennese waltz with DWTS veteran Tony Dovolani garnered a 16 (her eight kids times two!). Judge Bruno told her she had terrible technique and Len said she "looked nervous," while Carrie Ann was more kind, praising her "sweet vulnerability."
The buzzed-about reality show mom told OK! "I got through it without fainting, tripping on my dress, or falling and I just went out there. When we lined up, I looked across to Tony, and he's the one to usually make me laugh but I looked at him and I said, 'I'm going to nail this' and made him laugh.
OK! NEWS: KATE GOSSELIN DANCES BACK & FORTH TO BE WITH KIDS
"I don't feel like I nailed it — I felt like I've done it better many times but what I had in this moment, he carried me through it." Kate said she wasn't obsessing on the judges' comments: "I know I made my kids proud and that's all that really matters."
Article continues below advertisement
Kate confided that doing her work and family juggle "is really fancy footwork — no pun intended. It's definitely far more challenging than I thought it would be and my kids are happy, healthy, well taken care of.
"The hardest part is leaving them — I do travel for work often and we've taken the precaution of dancing in my basement — if they need something, I'm a flight of stairs away so I'm doing my best."
OK! NEWS: MAKSIM CHMERKOVSKIY MAKES ERIN ANDREWS NERVOUS
While Kate didn't seem to mind her relatively low score, former All My Children actor Aiden Turner and his pro Edyta Sliwinska couldn't hide their disappointment about getting bashed by the judges and only scoring a 15.
While Aiden has previously steamed up the TV screen, judge Bruno sniffed that his dancing was "not hot." His loyal partner Edyta admitted, "I was disappointed in the judges' comments. He deserved a lot more."
Article continues below advertisement
Aiden would only say, "I thought the other competitors did really well." However, the handsome actor, who has never danced before, said, "I love to challenge myself. Dancing is a scary thing but I'm not afraid of hard work and we've worked night and day."
OK! VIDEO: PAMELA ANDERSON TELLS ELLEN SHE THOUGHT DWTS WOULD BE FUN
Astronaut Buzz Aldrin, at 80 by far the oldest competitor, and partner Ashly Costa moonwalked their way through a cha cha but only got 14 points, the night's lowest score.
"That wasn't so great," Judge Len sighed. But backstage, Buzz couldn't be happier, telling OK!, "I had a wonderful time." When asked what he was thinking about when he was dancing, the American legend laughed, "the next step! What comes next! I told myself I'm going to be thinking ahead, smoothly, and watching Ashly."
His partner felt the judging was a little harsh and Buzz told OK!, eyes twinkling, "they owe us a couple points." Luckily for Buzz, in this season the competitors will get two weeks to prove they should stay on the show.