NEWS
Did Arie Luyendyk Jr. Slip & Reveal the Winner of 'The Bachelorette'?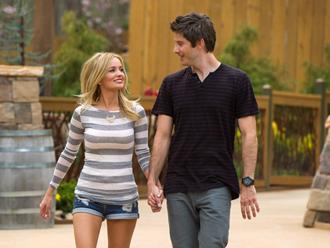 All of us Bachelorette fans know that Arie Luyendyk Jr., the race car driver with the cute sense of humor, is a frontrunner in the race for Emily Maynard's heart. But the contestant might have accidentally revealed who Emily is engaged to in a recent conference call with reporters.
The contestant talked about whether he'd be the next Bachelor and gave away a little more than he (or we) bargained for!
Article continues below advertisement
OK! NEWS: BACHELORETTE PREVIEW: EMILY MAYNARD BREAKS DOWN IN TEARS AND SECOND GUESSES HER DECISIONS
"Well, you know my fiancée might not approve of that," he admitted to reporters on Friday, quickly adding, "No, I'm just joking. I mean, I..." Then, he tried to redeem himself!
"No, I said, you know, basically it's hilarious because I know that's a hot topic right now but, you know, who knows what happens," he stumbled. "If I am engaged to Emily, I don't think it would be possible for me to become the next Bachelor."
Arie also gave some insight into which four guys might be in the final four! (He was obviously on a roll).
"There's a lot of really good guys there," Arie gushed when asked which of the other men are the best fit for Emily. "It's not that anyone's better than the next guy. It's the relationship. I don't have that feeling to where you know Chris, Sean, Jef — whoever's left on the show — couldn't make for a good father or a good husband. The guys that are there now are all very good individuals."
Article continues below advertisement
So, basically, Chris Bukowski, Sean Lowe and Jef Holm join Arie in the final four? Good to know!
But despite his heavy competition, Arie is ready to fight it out for Emily's affections and by the sound of it, he might just win the romance war!
"I had really strong feelings for Emily at this point and I break the rules this week to make sure that she knows that, and it was kind of crazy," Arie explained of tonight's episode. "But I am proud of it, that I took a chance and broke the rules to express how I felt."
OK! NEWS: BACHELORETTE RECAP: JEF HOLM TAKES THE LEAD IN THE RACE FOR EMILY MAYNARD'S HEART
"The story line this week really turns things up for me emotionally, and I think this is definitely a turning point for me," Arie added, revealing that Ryan Bowers' intentions might not be as sincere as his.
"You will definitely see Ryan's true colors play out this week," Arie said. "Ryan's a very competitive person in his daily life and you will definitely see it in the next episode. All those questions will be answered at that point, so you'll have to check it out for sure."
You heard him! Make sure to watch The Bachelorette tonight and check back for our recap tomorrow!