NEWS
'Dirty Dancing' Gets Ready for Reboot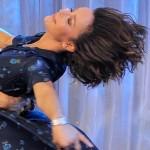 "Nobody puts Baby in the corner" is perhaps one of the most iconic movie lines of all time. Considering the late Patrick Swayze and Jennifer Grey dazzled and danced on the silver screen back in 1987, looks like Dirty Dancing is gearing up for a reboot in modern times!
OK! VIDEO: JENNIFER GREY DOES DIRTY DANCING; BRISTOL PALIN'S CAGE WATCH
Although it's unclear as to when Lionsgate will release the movie, sounds like it's in the works and they're already working on it. In a statement the studio indicated (via CNN): "Paying tribute to the emotional excitement of first love, the thrills and complexity of sexual awakening, the soul stirring power of dance, and the classic tale of teenage Baby's forbidden romance with Johnny Castle, the remake will incorporate classic songs from the 1960s, hits from the original film and brand new compositions."
Article continues below advertisement
OK! NEWS: DANCING WITH THE STARS WINNER JENNIFER GREY — "I JUST FEEL LIKE A VERY LUCKY WOMAN"
In the remake, the movie's original choreographer, Kenny Ortego will be busy at work to casting the new Dirty Dancing stars. Considering he's known for directing Michael Jackson's 2009 posthumous tour movie, This is It, looks like moviegoers will be in for a real treat!
In a statement Kenny noted, "Patrick Swayze set the bar for men dancing in the movies as Gene Kelly and Fred Astaire did before him. I believe everywhere you look there is evidence that the talent is out there and I can't wait to begin the process of discovering the next breakout triple-threats."