NEWS
Does Brandi Glanville Keep In Touch With Cindy Crawford?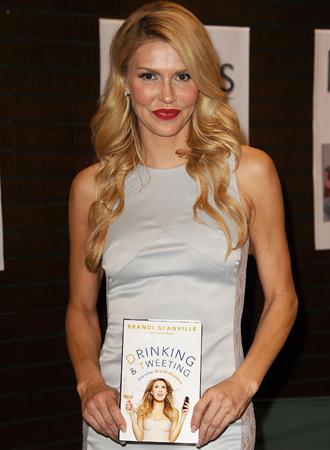 You may have heard OK! is hosting a Google Hangout with Brandi Glanville and we're dying to find out if The Real Housewives of Beverly Hills star is still pals with supermodel Cindy Crawford.
In her New York Times best-selling book Drinking and Tweeting: And Other Brandi Blunders, Brandi reveals she and Cindy crossed paths while modeling two decades ago. And they landed in the same social circle when Brandi started dating billionaire Micheal Meldman after her divorce from Eddie Cibrian.
Article continues below advertisement
We can't wait to ask Brandi for more deets on her friendship with Cindy and if they still keep in touch today during our Google Hangout on Wednesday, March 20th at 2 p.m. ET/11 a.m. PT.
Want to get in on the action? Here's what to do!
1. Start reading Drinking and Tweeting and Other Brandi Blunders and start sending the questions you have for Brandi about the book to us on Twitter to @OKmagazine with the hashtag #OKBrandiLive.
Article continues below advertisement
OK! Exclusive: RHOM Star Lisa Hochstein Dishes on Co-Stars!
2. Logon to OKMagazine.com on Wednesday, March 20th at 2 p.m. ET/11 a.m. PT for the live hangout. We'll be asking Brandi the questions we received in advance PLUS take questions LIVE via Twitter during the Hangout. Brandi will hold nothing back. Here's your chance to read her book and then interact with the author herself.
3. Between now and March 20th, check back on @OKMagazine, OK!'s Facebook page for updates, reminders and blog posts from all of us here at OK! And if you fill out the form here you'll have a chance at being picked to participate in our Q&A sesh with Brandi!
What do you want to ask Brandi? Start sending us your questions to @OKMagazine, #OKBrandiLive