NEWS
DVR THIS: Date My Ex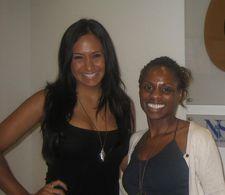 I'm gonna taking dating lessons from The Real Housewives of Orange County alum Jo De La Rosa.
After surviving an onscreen break-up with ex-fiancé Slade Smiley, she's back on the dating scene. And who is helping her find Mr. Right? Her almost husband!
Jo's renewed search for love is chronicled in the new series, Date My Ex: Jo & Slade, a show she almost didn't make.
"I didn't really want to do it," she tells me. "I had already done the reality thing and needed a break."
Article continues below advertisement
It was the startling twist of having Slade's input (he actually hosts her would-be suitors in his home), that helped her make her decision. "I thought it was cool they'd be living with him and he'd be checking them out," she explains.
Jo has a theory on why Slade signed up for the job. "Because he was sick and tired of me calling him at 10 p.m. asking him to come over and hang a shelf or fix a pipe that was broken," she laughs.
She confesses there would be no show if Slade was the one doing the dating. "I couldn't do it," she declares. "Slade has moved to Los Angeles, and I'll see him around town on dates and it's just weird."
Yep, Jo and Slade still have feelings for one another. "Slade and I are still close. We loved each other," she says. "I think if you leave on amicable terms, you can stay friends."
Hmmm, at the end of this series, does Jo have a new beau -- or a rekindled romance? "You'll just have to watch," she teases. "I may find love, I may go back to Slade or I might say 'Peace out' to all of them."
A dating mystery we can't wait to see solved.
Date My Ex: Jo & Slade premieres Monday, July 21 at 10 p.m. on Bravo.