NEWS
DWTS Finale: Has Marie Ruined Her Chance to Win?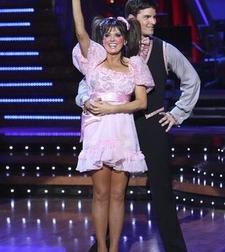 With only one chance left to impress the judges and the fans at home, the three remaining pairs of finalists had to put everything on the line Monday night on Dancing With the Stars. But Marie Osmond's decision to go with a "living doll" routine for her final number baffled the panel of judges and some of her fellow competitors. And with Spice Girl Mel B. having an off night in her finale performance, auto-racing champ Helio Castroneves could be in the driver's seat to win the DWTS trophy Tuesday night.
Article continues below advertisement
For better or worse, dark horse competitor Marie and her partner Jonathan Roberts stole the spotlight with their freestyle dance, which featured the heavily made-up singer as a wind-up doll in a little girl's dress — a tribute to Marie's popular line of collectible dolls. But it made critics and fellow finalists, like Mel B.'s partner Maksim Chmerkovskiy, who had already questioned her place in the finale even more outspoken.
"I think she came out trying to do something... Whatever it is, I guess it's between her and Jonathan. But nobody else knows what it was," Maks sighed. "I guess it was a big doll company promotion."
About his earlier comments that Marie had used her personal struggles this season — including her son's admission to rehab — to win votes, Maks told OK! "I just said what everybody else was thinking. To add to that, Marie is one of those people you can't find any flaws with. I have nothing but the utmost respect for her. God knows this woman went through a lot this season. But, having said that, this is a dance show."
Article continues below advertisement
Marie's former competitors also weighed in. Audience member Tony Dovolani (who was eliminated with partner Jane Seymour earlier in the season), told OK! "I thought Marie's routine was quite disappointing. It was a good idea gone bad. If she had snapped out of that doll thing, I think it would have come through. It was kind of like, when is she going to start dancing? The whole idea is the doll comes to life." Tony continued, "If Marie wins it, it will be pretty obvious that it's not about dancing."
Cameron Mathison, who was eliminated two weeks ago told OK!, "I just was kind of waiting for her to drop the doll persona, then dance and have fun. I think it didn't come together as well as they'd hoped."
But for their part, Marie and Jonathan begged to differ. "I liked it! It was a hard routine," Marie said, proudly showing OK! a bruise on her arm to prove it. "I have a huge doll fan base and I know they're the ones who have been voting for me, so this was a big thank you to them. It was for all the little kids watching. We could have done something sexy but this is a family show so we tried to keep it fun that way, and I liked the whole premise of the dance."
Article continues below advertisement
Jonathan said Marie deserves to win: "The person who's won every season has been the one who has improved the most and has gotten the fans behind them. That is the point of the show."
Helio, who got the top score of the night with partner Julianne Hough for their racing-inspired freestyle routine, diplomatically sidestepped the Marie controversy, telling OK! "I didn't watch it, to be honest." Of his own final performance, which earned a near-perfect 29, he said, "I couldn't have done better."
Meanwhile, Mel B., whose fellow Spice Girls cheered her on from the audience, left for the group's rehearsal right after the show, not speaking to the press. But perhaps the judges' slightly lackluster response was behind her early exit. "I thought we did as good as we could for the time we were given," Maks said.
Well... there's not much anyone can do now, except vote and hope for the best for their favorite finalist. Tune in Tuesday night to see if your fave foxtrots off with the trophy!