NEWS
'DWTS' Recap: Celebs Debut on Dance Floor for Fall 2010 Premiere!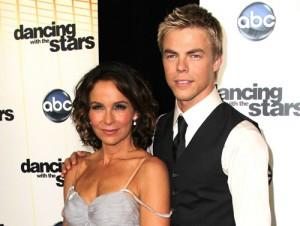 Jennifer Grey and Derek Hough had the time of their lives on the 11th season premiere of Dancing With the Stars on Monday night. The former Dirty Dancing actress and her pro partner earned the highest score of the night, a 24 out of 30. Jennifer and Derek's fluid Viennese waltz performance to the tune of "These Arms of Mine" from Dirty Dancing moved judge Carrie Ann Inaba to tears.
Meanwhile, the news wasn't good for Mike "The Situation" Sorrentino, David Hasselhoff, and Margaret Cho, who tied for the lowest score of the night, a 15, and could be in danger of elimination on Tuesday night.
Article continues below advertisement
It was an emotional moment for 50-year-old Jennifer, who was shown crying over the loss of her former Dirty Dancing co-star, Patrick Swayze, during rehearsals with Derek.
Jennifer told OK! backstage it meant a lot to her to dance in memory of Patrick: "It means a lot to me, more than I ever knew. It's just all unfolding." The star said she didn't even focus on the judges' praise: "I was in a little bit of a fog."
"It was terrifying and exhilarating and everything I hoped," she added of her first DWTS turn.
OK! NEWS: JENNIFER GREY FEELS CONNECTED TO PATRICK SWAYZE THROUGH DWTS
On a night of surprisingly strong dancing for a premiere, other celebrities came close to Jennifer's top score. Corey in the House star Kyle Massey's cha cha with his partner Lacey Schwimmer brought the house down. The 19-year-old actor was so energetic on the ballroom floor that Carrie Ann said, "you set the place on fire!"
Article continues below advertisement
Backstage, an elated Kyle told OK!. "The crowd was loving it. They gave us a standing ovation which was completely unexpected. I walked into this the worst dancer in the world and Lacey molded me into this dancer in three weeks."
Lacey sported a brand new long blonde hairdo, looking almost unrecognizable from her last run on DWTS two seasons ago.
Singer/actress Brandy and her pro, Maksim Chmerkovskiy, also scored a 23 in a tie for second highest score. Carrie Ann swooned over their "beautiful" Viennese waltz and judge Len Goodman praised it as "fabulous."
Rick Fox and Cheryl Burke's Viennese waltz earned a strong score of 22. Judge Len said of the 6'7" former basketball player, "your posture was amazing."
Article continues below advertisement
Rick, whose girlfriend Eliza Dushku cheered him on from the audience, told OK! after the show, "I feel blessed. I've been coached extremely well. I have a great partner who's kept me stable through this experience so far. I'm very happy with the score. We're in the hunt."
Bristol Palin and Mark Ballas also couldn't be happier, because they surprised many with their score of 19, which matches the young teen mom's age.
Sarah Palin's daughter, who cheekily cha-cha-ed to the tune "Mama Told Me Not to Come," won praise from the judges, with Carrie Ann pointing out she has fantastic legs.
"I was pretty nervous but it felt great," the politician's daughter told OK!. "I'm glad that we got our first dance out of the way and I'm excited to start working on our second one."
Article continues below advertisement
She expected her mother would be watching the show on TV and said her son, Tripp, almost 2, "is running around here. He came to one of our rehearsals."
Another couple with a score of 19, Audrina Patridge and Tony Dovolani, changed their cha cha routine at the last minute to make it harder. Judge Bruno raved, "you've got everything this competition needs."
After the show, The Hills beauty told OK! about performing her first dance, "It felt great. There were all these emotions going through me. I love doing this show because it's challenging. I'm becoming obsessed with ballroom and I definitely want to last longer. I don't want to get voted off."
OK!'S RED CARPET CONFIDENTIAL: AUDRINA PATRIDGE — "I'M CONSTANTLY EATING"
Tony said of his partner, "She never stops smiling. She is like the girl next door." The partners revealed they decided to give up caffeine together and it's helped their rehearsals.
Article continues below advertisement
Meanwhile, football quarterback Kurt Warner and his partner Anna Trebunskaya also scored a 19. The couple delivered a graceful Viennese waltz that had judge Bruno Tonioli saying the athlete had "great potential" in the competition.
Florence Henderson and Corky Ballas took home an 18 for their cha cha.
The Brady Bunch mom — who is the oldest competitor at 76 — strutted her stuff and told OK! afterward, "I feel relieved that it went so well, that I got through it and remembered most everything Corky taught me. I know I can do better but for the first time out of the box, I was pleased."
Michael Bolton and partner Chelsie Hightower's Viennese waltz only got a score of 16, but the singer accentuated the positive: "Nobody got hurt and I didn't rip Chelsie's beautiful dress."
Chelsie added, "I honestly feel good about tonight. I think he did a great job and 16 only gives us more room to grow."
Though judge Bruno thought his body looked too tight, the singer hopes he can make it through Tuesday night and dance another day: "I understand what I have to work on," Michael told OK!
Article continues below advertisement
Margaret Cho and partner Louis Van Amstel combined dance and comedy in a Viennese waltz that had the baffled judges giving them a 15. "What the hell was that?" Judge Bruno snapped.
He and the others felt Margaret sold herself short because she showed she could dance — then threw inappropriate comedy in at the end.
"To me, it was the hardest I ever tried to do anything," Margaret told OK!. "We did great." Louis agreed but sighed, "Unfortunately, the judges didn't see it that way."
Still, the couple shrugged off the criticism and Louis confided he's also got the comedian on an abdominals workout program.
OK! NEWS: KYM JOHNSON'S DWTS DIARY — THE HOFF'S BIG CHA-CHA-CHANCE!
The judges hassled the Hoff on Monday night, only giving David Hasselhoff and Kym Johnson a 15 for their cha cha.
"It was madness," Bruno sighed. "Insanity disguised as dance."
Article continues below advertisement
OK! blogger Kym said after their performance, the last of the night, "I felt bad because he tried really hard and the judges were pretty hard on him. He's the Hoff. I hope people vote. I have so many fun things I want to do with him throughout the season so I'm hoping we can get through."
Mike "The Situation" Sorrentino and his pro Karina Smirnoff, who only had five days to prepare for the show, rounded out the bottom three, getting a 15 for the cha cha.
Judge Len said of Mike's dance, "you've got the guns, but not the ammunition."
Mike told reporters backstage, "We tried our best. We had fun out there. We were smiling. Everybody knows we only had five days, it was definitely a little hard on me. I jumped off the stage. I thought it was cool."
CLICK HERE FOR ALL OF OK'S DWTS NEWS!
The Jersey Shore hunk insisted of his dance training, "I was really putting in the work. I took it seriously. I could have not taken this and chilled out until April, when the next Jersey Shore show is. I took it because it's a privilege to learn from a professional, real steps and everything. I came to this competition knowing dancing wasn't my strong point. I was like, 'I'm going to try my hardest, put it all out in the field and whatever happens, happens.' "
The Situation and the other celebrity dancers will find out what happens tonight when the first elimination will mean one of them will have to leave the ballroom behind. Tune in at 9 p.m. on ABC!